Conveyor belt manufacturer Continental has developed a technology that uses drones and acoustic monitoring to identify potential problems on large-scale conveyors before costly damage occurs. The technology replaces laborious manual inspections by using sensor-based technologies that allow precise inspection and enable predictive maintenance.
The system focuses on finding defective idlers, which are estimated to be responsible for 30% of the operating faults on large belt conveyors. A mid-sized conveyor system in the mining sector, for example,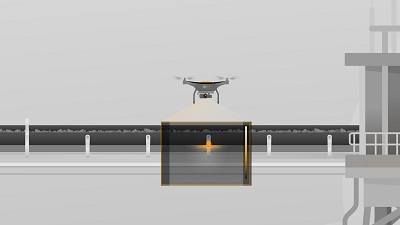 A camera-equipped drone inspects open sections of a conveyor belt system. Source: Continental might have a 40 km long belt running over around 120,000 idlers.
Open and outdoor sections of such conveyors are inspected from the air using drones equipped with cameras and infrared sensors that monitor both sides of the conveyor. After the drone has flown over a section, it returns to a charging station where it uploads the data to the cloud via an internet of things module while it is being recharged. The image data is processed using an artificial intelligence (AI)-assisted algorithm and analyzed to detect any idler defects.
For covered or underground conveyors, monitoring is carried out using microphones installed every 20 m to 25 m to capture changes in the acoustic signatures of the idlers. The audio signals are recorded twice a day and uploaded to the cloud. Signals that might indicate a damaged idler are then investigated using the AI algorithm.
"Conventional and often manual inspection methods can be very time-consuming, imprecise or even dangerous for service technicians because of the belt lengths or local circumstances such as underground routing and enclosed sections," explained Clemens Panzer, a member of the Continental team that developed the technology. "Documentation is also often performed manually, with reports having to be input subsequently into the relevant datasets. Maintenance intervals also frequently follow a fixed rotational principle, meaning that measures required on short notice to avoid or prevent conveyor failures cannot be carried out in a timely manner."
The new sensor-based inspection approach, by contrast, allows data-assisted remote monitoring of conveyor system condition to detect potential damage at an early stage. "Changes in the conveyor condition over an extended period can be analyzed better using the stored historical data, and the anticipated service life of the components can also be better estimated," Panzer explained.
The system has been tested successfully in field trials and is expected to become available during 2021.