A traditional CES is usually filled with sore feet and sensory overload for attendees wandering the exhibition hall all day looking at the next generation in consumer technology. But CES 2021 will not be like any previous CES because this year's iteration will be conducted as an all-digital event. And while the eyes and feet may be more comfortable this year, much of the cool stuff coming from the show remains.
Because the first day of CES is generally a haze of announcements and vendors launching their wares in rapid succession, weeding through the mass collection of product introductions becomes incredibly taxing. But here is some of the best stuff introduced during day one.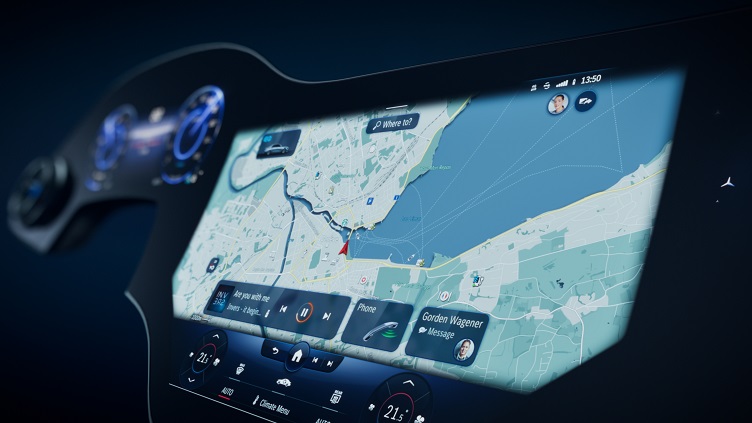 The Hyperscreen covers the entire dashboard and is the largest human-machine interface to ever be built by Mercedes. Source: Mercedes
Mercedes-Benz Hyperscreen
Mercedes-Benz previewed its Hyperscreen prior to the tradeshow, but gave few details other than that it would run the entire width of the dashboard in future vehicles and feature interactive vehicular controls as well as entertainment functions.
On the first day of CES 2021, the company offered more details about the Hyperscreen, which consists of three seamlessly merged displays with a width of 141 cm with what the company claims is the largest human-machine interface built by the company to date.
Equipped with artificial intelligence (AI), the display and operating system adapts to the user and allows for personalization suggestions for infotainment, comfort and vehicle functions depending on the situation. The Hyperscreen includes Mercedes Travel Knowledge that evaluates map data and its surroundings to provide information about interesting landmarks along a route or about restaurants and shops in the nearby driving area.
Users do not need to scroll through submenus. Instead, important applications such as navigation or the telephone are always offered and contextually on the top level in the field of vision. More than 20 other functions are automatically displayed to users with the help of AI.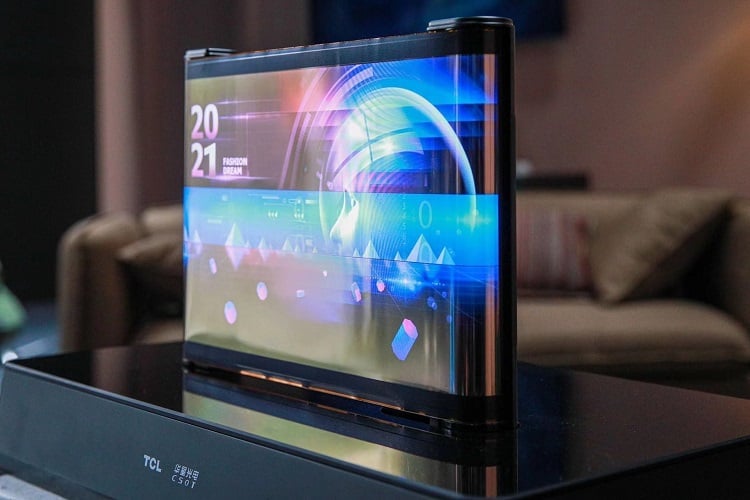 While just a prototype, TCL showed off a massive rollable tablet and the display technology could be used for even bigger displays. Source: TCL
TCL's 17 in printed OLED rollable display
While just a prototype, TCL wanted to show what the future of their tablets and smartphones may be with a massive 17 in printed active matrix organic light emitting diode (AMOLED) rollable tablet as well as a 6.7 in rollable smartphone.
The Chinese consumer electronics giant said the displays could also be used across other products such as TVs and commercial transparent displays for retailers.
With the swipe of a button, a tablet or smartphone goes from a traditional shape and rolls into a much larger device. Once a user is done, another button tap allows the screen to be hidden inside the case. TCL said the sliding life of the device is up to 100,000 times.
While just a prototype, it is unclear when this technology may be commercially available, but it does not make it any less cool.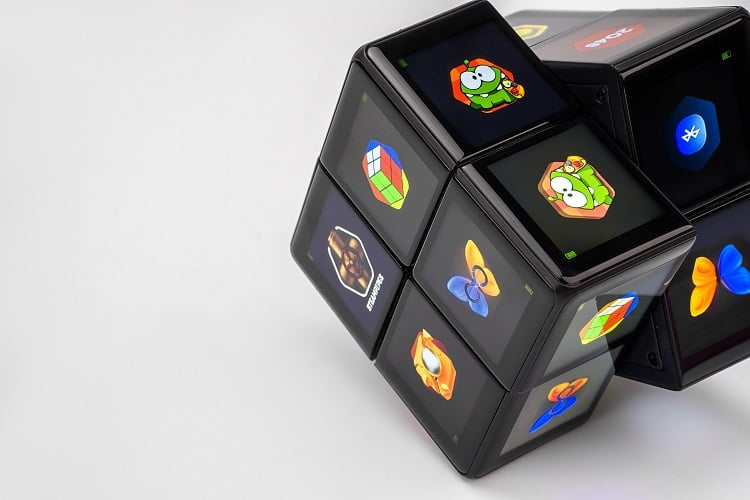 The WowCube can play games and contains three HD screens as well as a CPU inside. Source: Cubios
WowCube
After years of development, Cubios Inc. will begin collecting pre-orders for the WowCube entertainment system in the second quarter of 2021 with shipment expected before the holidays.
The WowCube is an entertainment device that is a cube made of 8 separate cubicle modules connected to each other where each module is a separate device with three high-resolution screens and a CPU inside.
The company plans to use Kickstarter to collect the pre-orders and the campaign will help the company make plans to produce the first mass-manufactured batch.
"The pandemic didn't stop us. We focused on the software part and made a lot of improvements. We released a completely new version of our operating system CubiOS," said Ilya Osipov, president of Cubios. "We've re-built a system architecture, made it much more stable. We worked hard on UX/UI, and now the device can also be controlled by tapping. We developed SDK available for a global developers community starting in the first quarter of this year. We added a new mode of functioning and added new types of apps, including multiple awesome games and widgets."
Besides games, WowCube can activate widgets and screensavers to get information about weather, air quality, stock market dynamics and social media.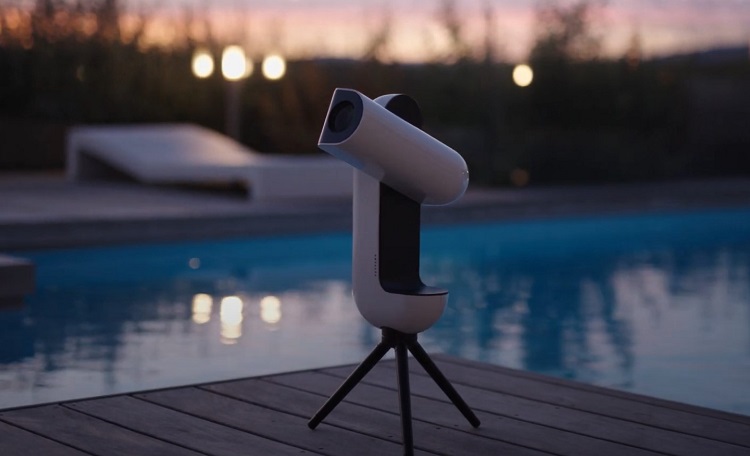 A telescope and a camera allows Vespera to take awesome photos from space. Source: Vaonis
Vespera
Introduced late last year via Kickstarter, the Vespera portable telescope won a Best of Innovation award at this year's CES — the top honor from the show — in the digital photography category.
Vespera is a combination of a telescope and camera that allows users to capture the night sky, learn about space and share the discoveries via social media and other outlets. The telescope is easy to use as it is lightweight, can be placed on a tripod with adjustable legs and turns on with the push of a button.
Other features include point and track technology that allows the telescope to compensate for the Earth's rotation to keep an object in space in view. Also, the device ports to a tablet where users can choose a destination for the telescope to view or users can just point the device in a direction and see what they can find.
The company said with the telescope, users can see the Orion Nebula, Dumbbell Nebula or the Andromeda Galaxy and take full HD photos.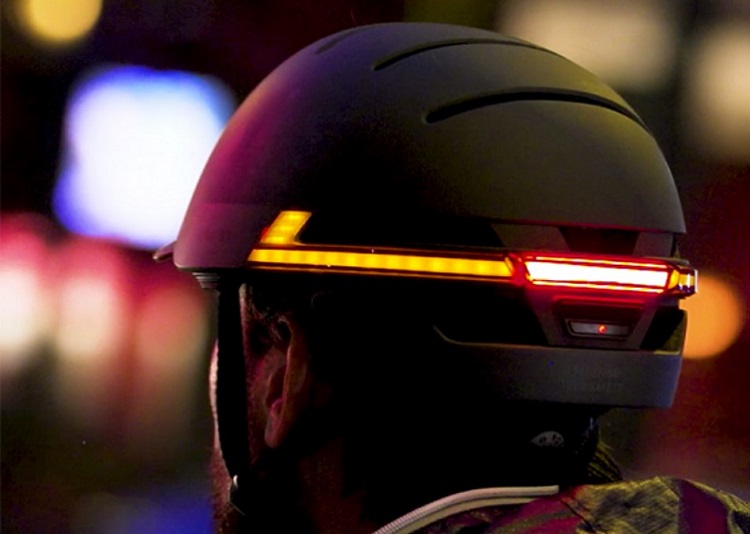 The smart helmet made its U.S. debut at CES 2021 and can call for help in case of an emergency. Source: Livall
Livall's smart helmet
Livall introduced to the U.S. market for the first time at CES its BH51M Neo smart bicycle helmet. The helmet includes both front and brake warning lights, auto-off features and an anti-loss alarm when the helmet is connected to a smartphone and the distance between the helmet and phone exceeds 15 meters.
Other features include smart lighting that is adaptive to a rider's visibility in dark conditions and can operate wireless LED turn signals via a handlebar remote control. Fall detection and press for SOS features are also embedded into the smartphone. In case of emergencies, the helmet will send a GPS location to emergency contacts. Riders can also take phone calls via remote control for communication on the helmet's built-in Bluetooth speakers and microphone. Walkie-talkie functions are also available to communicate with other riders as well as voice navigation that gives GPS information through the built-in speakers.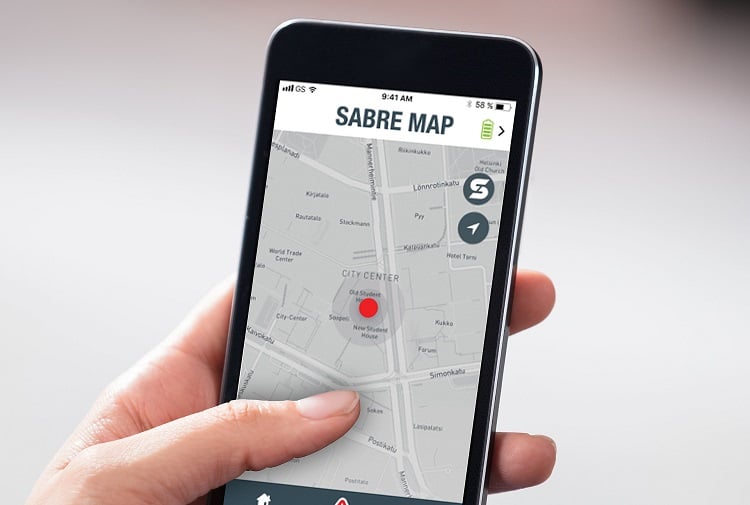 The app that will pair with smart pepper spray to alert authorities when deployed. Source: Sabre
Smart pepper spray
In uncertain times, personal defense products are in wide demand. And Sabre is looking to make traditional defense products smart with a smart pepper spray product that is designed to work with its new personal safety app launched at CES 2021.
The app, available in the App Store and Google Play in April this year, allows family, friends and local authorities to be alerted when the smart pepper spray is deployed. In collaboration with Noonlight, a signal is sent to emergency personnel to the live location of the user when the spray has been deployed.
It works by setting up an account with Sabre's app and then assigning five contacts who then receive a text message when the spray has been used. The message includes a map link with the user's location and geo-tracking to track the user following the initial text. If the smart pepper spray is deployed by mistake, the user can enter a pin code and cancel the alert.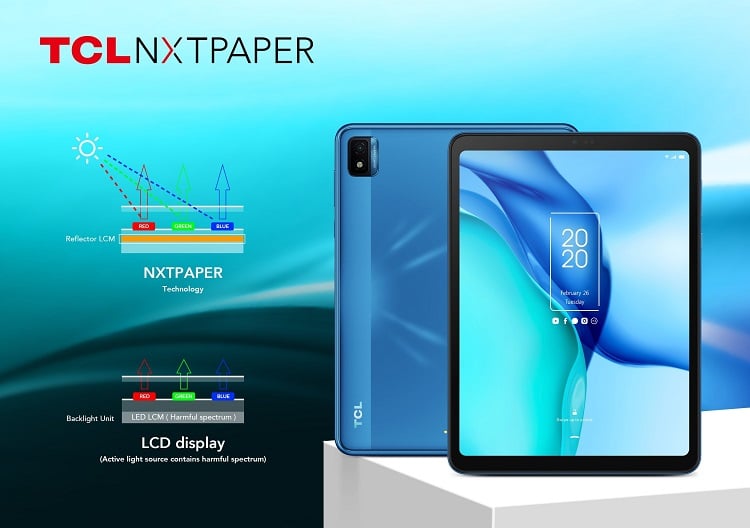 A tablet that offers a paper-like visual experience with eye protection designed for educational markets. Source: TCL
TCL Nxtpaper
The Nxtpaper tablet from Chinese consumer electronics vendor TCL is the first to use the emerging display technology that reuses natural light for full-color reproduction without blue light or flicker. The display technology on the tablet provides 25% higher contrast than most e-ink tablets and is 65% more power efficient than standard LCD screens.
TCL said the tablet offers a paper-like visual experience with advanced eye protection, making it applicable for students and professionals. It works with Google Assistant, is powered by a octa-core processor, contains a 5500 mAh battery for full day use, 5 megapixel front-facing camera and an 8 megapixel rear-facing camera for classroom learning, video teleconferences, presentations and more.
The all-digital CES is taking place Jan. 11-14.