A new study from Chinese device maker Xiaomi has found that since March 2020, when the outbreak of the COVID-19 pandemic forced many in the world to stay-at-home, 71% of consumers made improvements to their homes. Of these, 51% of consumers purchased new smart home equipment as consumers were forced to work at home, play at home and social distance from others.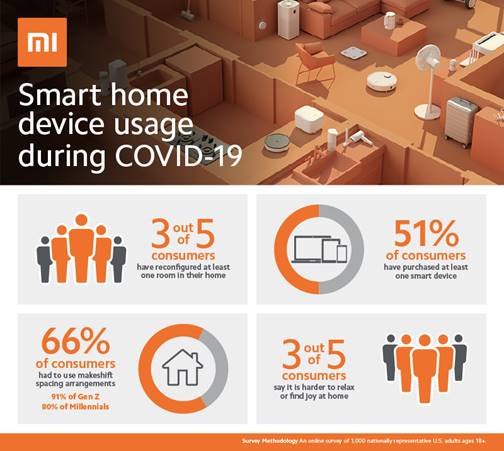 51% of consumers in a recent survey have bought smart home devices as a result of the COVID-19 lockdown. Source: XiaomiThe study found that three out of five respondents said that since leisure and work environments have become one, it is harder to carve out a personal space to relax at home. Among these, 63% purchased smart home devices, 82% adapted a room for working at home during lockdowns and 79% reconfigured at least one room.
"Smart living has always been about reimagining and optimizing physical space to solve problems and adapt to new realities through the use of technology, and we've seen this adoption accelerate in 2020," said Daniel Desjarlais, global product marketing manager at Xiaomi. "Connected homes, automated systems and new technology are helping people create ecosystems within their homes to solve new challenges presented by increased time at home, whether it's adapting or creating new uses for old spaces, such as office space or classrooms, or just creating a more streamlined home that is easier to manage and control."
On average, those who purchased new devices actually bought two since March in response to being at home. Generation Z consumers bought on average three smart home devices to help carve out a place to work or to study.
Smart home devices were used to create home movie theaters with smart projectors, access streaming content, increased use of smart speakers and automated lighting or used to create workspaces with increased connectivity. These devices can also help with daily tasks that have increased with being home more often such as smart appliances or robot vacuums.
Interestingly, the survey found that many of these solutions that started because of new stay-at-home orders will likely be a permanent solution with 60% saying they plan to continue to use their home for activities that prior to the pandemic were done elsewhere, even when a vaccine is available.
If stay-at-home orders continue or are re-implemented in 2021, 39% of respondents plan to upgrade their device and 41% will adapt a room.