Test and measurement vendor Tektronix calls it the first of its kind: A native oscilloscope-to-cloud software solution that facilitates global data collaboration directly on an oscilloscope, PC, phone or tablet.
The system, called TekDrive, is a fit for the kind of remote work that has become commonplace in the COVID-19 pandemic landscape. It allows for automatic accessibility of data, facilitating secure collaboration across teams and partners. It also provides data visualization and analysis capabilities, with options to view, zoom, pan, measure, decode and analyze test and measurement data on any device — without the need for additional software.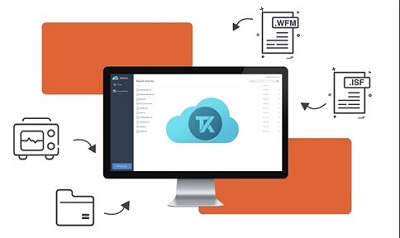 Illustration of new data sharing solution TekDrive. Source: Tektronix IncTekDrive works by saving data updates in globally accessible shared folders. Owners can manage secure access and permissions at a granular level. Participation rights in shared files and folders are granted via free contributor accounts, with the number of available accounts determined by tiered pricing. The Enterprise Tier supports unlimited contributors.
"Engineers needed their own workspace in the cloud to securely manage complicated, real-time data from their oscilloscopes," noted David Sulpy, chief information officer at Tektronix. "TekDrive fulfills that need, whether they are working in the lab or at home."
According to Tektronix, the system offers a clean interface for file organization, management, search, upload and download. It's also architected for ease-of-integration with secure vendor-agnostic REST APIs for scripting, automation and analysis. The company provides SDKs and examples in multiple languages, including Python, Matlab and LabVIEW. Third-party developers can also add native TekDrive capability to devices, instruments and software applications via the TekCloud Developer Program.
"Aggregating data from various instruments has always been a challenge," said Siddharth Deliwala, director of laboratory programs at University of Pennsylvania. "Engineers often use unsecured USB sticks, or worse, snap photos of the instrument's screen with a phone. Being able to share data directly from instruments via TekDrive is a breakthrough for engineering teams in the commercial and academic space to learn and innovate efficiently."
For more information, including access to a 14 day trial, visit TekDrive online.