(Editor's note: This is part two of a two-part series examining the push to increase U.S.-based chip manufacturing. See Part 1: Bringing U.S. domestic chip manufacturing back.)
Domestic U.S. semiconductor manufacturing has been a hot topic in 2020. In the wake of the COVID-19 pandemic that saw the electronics supply chain falter and geopolitical issues such as the trade war in China and the move to blacklist Chinese companies in the U.S., domestic chip manufacturing is now seen as a critical issue to long-term success.
The American government has also taken notice with legislation that aims to infuse funding for the development of new infrastructure and facilities either by domestic manufacturers or foreign companies looking to expand their reach. Prior to this legislation being enacted, Taiwan Semiconductor Manufacturing Corp. (TSMC), the largest pure play founder in the world, announced plans to build a state-of-the-art 5 nm foundry in Arizona. The fab would be only the second of its kind in the world.
It is obvious from the two bills moving through Congress — the National Defense Authorization Act (NDAA) and the Creating Helpful Incentives to Produce Semiconductors (CHIPS) for America Act — that the U.S. government has decided that semiconductors are a strategic resource and the roughly $100 billion from these bills would be provisioned to redeploy manufacturing locally.
"The legislation could be a game changer for the U.S. because there is no investment right now," said Jimmy Goodrich, vice president of global policy at the Semiconductor Industry Association (SIA). "It could level the playing field and develop advanced foundries to compete against Taiwan, China and Korea. The key is ensuring this legislation gets passed and there is still a lot of work to do in terms of this accomplished."
Significant impact
Today, only Intel, Samsung and TSMC are advancing semiconductor manufacturing technology and Intel is the only U.S. company in the group. The U.S. accounts for just 12% of global capacity, with more than 80% of semiconductor production taking place in Asia.
"Support and investment by the U.S. government in the domestic semiconductor industry could have a significant impact that ensures American companies lead the next generation of innovative technology," said Jeff Rittener, chief government affairs officer at Intel Corp. "America is falling behind in the race for leadership in this most fundamental technology because of foreign government subsidies to their own national champions."
The CHIPS for America Act was introduced to the U.S. Senate and referred to the Finance Committee in June through a bipartisan effort led by Sen. Mark R. Warner (D-VA), vice chairman of the Senate Select Committee on Intelligence, and Sen. John Cornyn (R-TX).
The legislation would create a 40% refundable investment tax credit for qualified semiconductor equipment or any qualified semiconductor manufacturing facility investment expenditures through 2024. It would also direct the Secretary of Commerce to create a $10 billion federal match program that matches state and local incentives offered to a company for building a semiconductor foundry with advanced manufacturing capabilities. Funding would also be allotted for R&D investments and other funding to increase the engineering workforce.
"While China has upped its production of semiconductors dramatically and its investment, the U.S. has dropped from producing roughly a quarter of the world's semiconductors to only 12%," said Sen. Cornyn during floor remarks on the CHIPS for America Act in November. "That's a big problem. First through the obvious economic implications. Giving up a significant global share of manufacturing means missing out on thousands — indeed, tens of thousands of high-paying jobs that could be stationed right here at home."
Cornyn added that a growing dependence on Chinese manufacturing poses a national security risk as these chips are critical to all infrastructure such as 5G cell towers, hospital equipment, missile defense systems and more.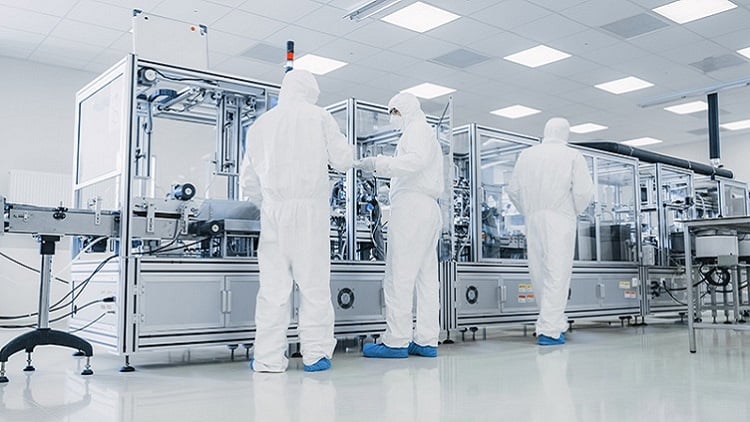 The legislation could be a game changer for U.S. domestic semiconductor manufacturing in leveling the playing field with Taiwan, China and Korea. Source: AdobeStock
NDAA includes Title XCIX entitled "Creating Helpful Incentives to Produce Semiconductors for America," which would create provisions for the establishment of federal incentives to promote semiconductor manufacturing and federal investments in chip research.
The House of Representatives just this month passed the NDAA and the SIA, a trade organization working toward the advancement of U.S.-based semiconductor efforts, called the passing of the bill critical to "America's economic growth, national security and global technology leadership."
Tom Sparkman, CEO of Spin Memory, a U.S. semiconductor company developing magnetic random-access memory (MRAM), an emerging memory technology that uses electron spin to store information, believes the funding from this legislation should be broken into three different investments. First, for the development of bleeding edge chip technology into the 5 nm to 2 nm range. Second, for building an ecosystem that surrounds semiconductor manufacturing — such as packaging and downstream stages — that has been decimated in the last few decades and will be vital to rebuilding America's semiconductor supply chain. And lastly, investment in startups and innovators.
"Unfortunately, not many U.S. businesses are investing and innovating in hardware technology because it's so much easier to scale and secure financial returns for software solutions," Sparkman said. "Some of this $100 billion will need to be put toward new businesses developing hardware to keep encouraging innovation to support the bleeding edge software applications, like AI and edge computing."
Challenges remain
While investment and interest in domestic chip manufacturing is growing, problems remain, most notably the cost to build and operate these facilities. The capital costs associated with developing U.S.-based semiconductor manufacturing facilities are nearly unmatched among other manufacturing operations, said Intel's Rittener.
A modern chip plant requires an investment upwards of $10 billion, compared to about $2 billion in 2001. These costs are only expected to increase as for each generation of technological complexity, the cost rises 13% annually.
"In addition, it costs about 25% more to build and operate a modern semiconductor manufacturing facility in the U.S. versus overseas," Rittener said.
Because other countries have greatly closed the gap by using targeted industrial policy coupled with government investments to boost foreign semiconductor manufacturing, it poses a risk to the U.S.'s long-term economic and national security — including emerging technologies such as 5G, the internet of things and artificial intelligence, said Ezra Hall, director of aerospace and defense business line at Globalfoundries, a U.S.-based pure play foundry.
"It is crucial that the U.S. government invests now in these technologies that will underpin the global economy for the future generations, and to continue to invest in order to compete on the world stage," Hall said.
SIA's Goodrich said that the work force also needs to be addressed to support the industry in the future and that includes immigration reform so that educated individuals that want to work in the U.S. can do so legally. This also includes investment in science, technology, engineering and math (STEM) education at the K-12 level.
"The number of American born students studying engineering and science is decreasing and to get people more interested in this field, we need to do more at the K-12 level," Goodrich said.
Exports needed
In May 2019, the Trump Administration took action to add Huawei and its affiliates to the Bureau of Industry and Security (BIS) Entity List. The move effectively blacklisted Huawei and any U.S. company that wanted to work with the Chinese telecommunications giant would need to get a specific license.
While primarily focused on the deployment of 5G technology, the blacklist also extended to the export of semiconductors to Huawei. Following this move, the Administration acted to curb the use of components from Semiconductor Manufacturing International Corp. (SMIC), one of China's largest chipmakers. The move by the U.S. Department of Commerce would require American companies to apply for an export license before selling supplies to SMIC.
The SIA believes that while these restrictive policies for export control and national security is important, a balance is needed in terms of the economic interest as well.
"A strong, robust semiconductor industry is a strong national security industry," said Goodrich. "We want a more efficient and transparent process for export licenses. Not every chip is sensitive to national security and not every chip relates to 5G. If we limit our export markets, it does not make the U.S. a desirable place for chip manufacturers to invest in manufacturing."