Airborne radar and lidar systems have been widely used to precisely map the surface of the Earth, but these technologies have yet to develop sea legs, as seawater absorbs the electromagnetic radiation signals needed for sensing and imaging submerged topography. Underwater regions are typically mapped by attaching sonar systems to ships in a cost- and time-intensive approach which is inefficient for covering large areas. A solution from Stanford University combines light and sound to penetrate the air-water interface.
A laser fired from the air by the Photoacoustic Airborne Sonar System (PASS) is absorbed at the surface of the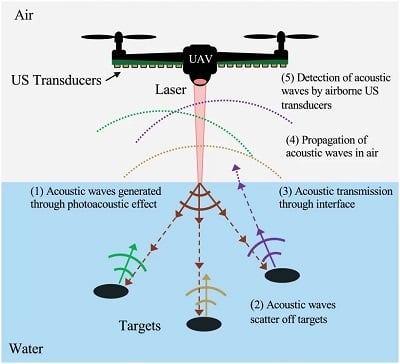 Schematic of the airborne sonar system with the exciting laser and receiving ultrasound transducers both on-board an unmanned aerial vehicle. Source: Aidan Fitzpatrick et al.water, generating ultrasound waves that propagate down through the water column and reflect off underwater objects before returning to the surface. After the reflected ultrasound waves are recorded by air-coupled capacitive micromachined ultrasonic transducers, software is then used to piece the acoustic signals back together and reconstruct a 3D image of the submerged feature or object.
Prototype tests conducted in the laboratory demonstrated the technology on a small scale, and the researchers envision used of the hybrid optical-acoustic system in drone-based biological marine surveys from the air and for mapping ocean depths with the same speed and detail experienced on land. Unlike optical imaging, the underwater acoustic nature of PASS is more robust in turbid waters and at greater depths and has high potential for future scalability and large-scale deployment.
A paper on this research is published in IEEE Access.