Cornell Dubilier Electronics Inc. (CDE) has expanded its supercapacitor operations and personnel to meet the explosive growth in applications for this rapidly evolving technology. The company's supercapacitor strategy will be under the direction of their recently hired business unit manager, Brendan Andrews, who previously led sales and marketing efforts for several of the major well-known brands in supercapacitors.
"We're excited to have Brendan on board to accelerate growth, especially in our customized supercapacitor modules business. By offering application-specific solutions we will help our customers solve their energy-storage problems at a fraction of the space and cost of battery solutions," said Jim Faughnan, president of CDE.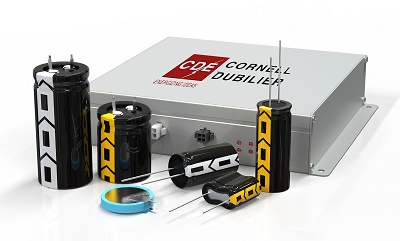 Source: Cornell Dubilier Electronics Inc.
The company plans to introduce new products in the coming year, including cutting-edge lithium-ion hybrid types, which offer higher operating voltages and greater energy densities. With their massive storage capabilities, supercapacitors bridge the gap between conventional capacitors and batteries providing instantaneous bursts of power that are problematic for the latter devices. These components are typically used individually or in series-parallel banks for power holdup during brief interruptions to line power. In some applications, they supplement or are used in place of batteries for applications as diverse as solar and wind energy harvesting, mechanical actuators, automated guided vehicles, electric vehicle transportation power, smart utility meters, industrial internet of things, pulse battery pack alternatives, memory backup, battery/capacitor hybrids, uninterruptible power supply systems, emergency lighting, LED power and solar lighting.
CDE is moving beyond stocked components by expanding capabilities in standard and custom packages to meet higher voltage and current application requirements. Some solutions use series-parallel banks of capacitor cells with active or passive balancing circuits. Included in CDE's expansion plans are additional personnel and equipment for the advanced testing of these devices.