An innovative stack light solution from Advantech is engineered to improve overall equipment effectiveness (OEE) on the production line. The stack type light tower can be used by production line managers to monitor the status of their equipment and manufacturing output.
Traditionally, there would be a person whose task it is to check the status of each production line from the individual lights on each machine. WISE-S100 intelligent stack light monitoring sensor was developed to do away with this by simultaneous display of several operational states. WISE-S100 also lowers operating expenses and allows factory owners and managers to monitor manufacturing status and OEE remotely.
WISE-S100 one-size-fits-all design can detect and indicate several simultaneous operational states through the use of light states such as light on, light off, slow blinking and fast blinking. WISE-S100 has 8 sensors inside taking up over 90% of its height. When WISE-4000 wireless modular I/O series is paired with the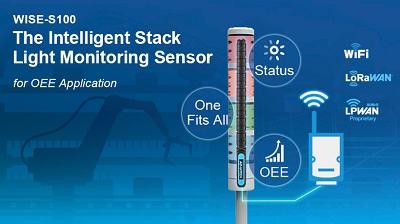 Source: AdvantechWISE-S100 sensor, users get a remote and intelligent OEE solution that can be integrated into machinery without stopping production or worrying about wiring. WISE-4000 supports WiFi 2.4G and various LPWAN wireless technologies such as LoRaWAN and proprietary LPWAN (SUB-G) which has higher penetration, lower interference, wider coverage and fits diverse production scenarios on the production line. WISE-4000 LPWAN series comes with an optional battery power solution.
The current market provides very little flexibility for stack light sensor implementation. Some sensors are designed with radio frequency connectivity which will be limited by regulatory constraints. It turns out current products don't quite fit market needs, especially when there is a variety of wireless technologies around the world.
Target applications
WISE-S100 intelligent stack light and WISE-4000 wireless I/O module OEE solution are suitable for use in continuous flow production and discrete manufacturing industries.
WISE-S100 is aimed at:
Existing machines with the light towers that have no data transmission functions
Equipment with light towers have no direct connectivity within their environment
Aftermarket equipment that have light towers that are functioning but cannot be turned off or controlled