Test and measurement solutions developer Teledyne LeCroy provides support for complete analysis of IEEE 802.3cd based 200GbE pulse amplitude modulation (PAM4) ethernet links in the SierraNet M648 Ethernet and Fiber Channel Protocol Test System with the latest Net Protocol Suite software version 4.30. SierraNet M648 offers extensive and deep Ethernet protocol analysis, including InFusion traffic impairment tools for both NRZ and PAM4 signaling and is the only dedicated analysis tool in the market to offer complete test and network validation tools covering the full range of ethernet speeds and protocols available.
The growing worldwide reliance on cloud computing requires data centers to move vast amounts of data at ever increasing speeds and to use technologies like PAM4 signaling in their networks. The SierraNet M648 analyzes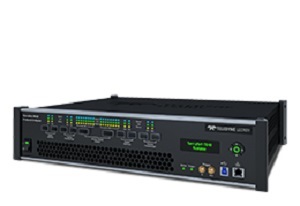 Source: Teledyne LeCroy PAM4 traffic over QSFP-DD and QSFP-56, as well as SFP connections using traditional direct attach copper, active optical cables and optical transceiver interconnects, which allows network equipment manufacturers and data center managers alike to fully test their network capabilities and identify issues that inhibit network efficiencies.
The Net Protocol Suite is a completely integrated software utility for use with all SierraNet products and includes an event timer and counter functions for creating complex and detailed test matrices. All analysis projects and InFusion impairment scenarios are created and maintained in one tightly integrated and standards compliant package with lifetime updates and revisions included.