KEB America has introduced EtherNet/IP for its S6 servo drive and F6 variable frequency drive (VFD) products. EtherNet/IP is immediately available with firmware version 2.6 and higher with the application control board.
KEB's implementation uses the AC drive profile to increase interoperability between similar device types. Supported KEB drives are currently available in both 230 V AC and 460 V AC classes, up to 500 hp.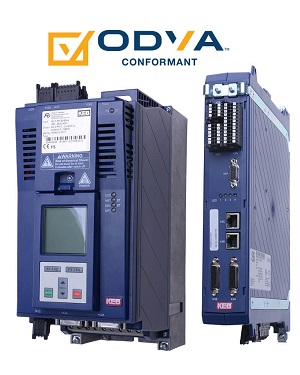 Source: KEB America
The S6 servo drive is ideal for high performance servo applications requiring real time communication, advanced SIL3 safety functionality and integrated brake control. The S6 is narrow with a compact footprint, allowing the drives to be closely mounted together. Housing two (up to 2.2 kW) is only 50 mm wide while housing four (up to 7.5 kW) is only 90 mm wide. The servo drive uses the CiA 402 motion control profile and has an internal 32 bit positioning module for single-axis motion control applications.
The F6 is offered in graduated sizes up to 450 kW, and both 230 V and 480 V classes are available with switching frequencies up to 16 kHz. The VFD operates a variety of motor types including induction, AC PM servo, linear, torque and synchronous reluctance motors.
In addition to EtherNet/IP, KEB drives support Profinet, EtherCAT, CAN and Powerlink through a quick parameter adjustment. The KEB EtherNet/IP drive products are available with options like regenerative braking, liquid cooled heatsinks, internal positioning control and SIL3 certified safe motion functions.