The AutomationDirect Productivity2000® PLC is a modular, rack-based system with a full lineup of discrete, analog and specialty I/O modules providing over 400 local I/O points. With remote expansion, over 4,000 total I/O points are available.
Two new 4-channel analog input modules provide 0-20 mA or 0-10 V DC inputs, and two new 4-channel analog output modules supply 4-20 mA or +/- 10 V DC outputs.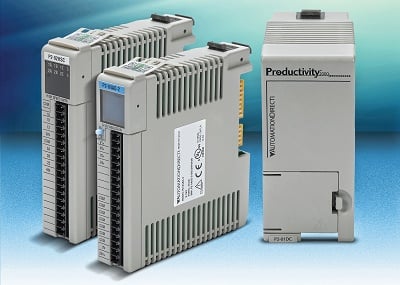 Source: AutomationDirect
The new P2-02HSC high-speed counter module provides two independent single-ended 5-24 V DC inputs that accept up to 100 kHz of pulse/direction and quadrature signals. The P2-04PWM pulse width modulation module supplies four channels of 5-24 V DC, sinking or sourcing, 0-20 kHz, 0-100% duty cycle outputs.
The high-performance Productivity2000 CPU has 50 Mb memory, fast scan times and five communication ports including Ethernet that allow programming, expansion and client/server connections (Modbus TCP, EtherNet/IP scanner and adapters).
AutomationDirect provides free ProductivitySuite programming software and offers free online Productivity PLC training. The entire Productivity2000 PLC system is backed by a full two-year warranty.
Learn more by visiting: www.automationdirect.com/p2000