The COVID-19 pandemic has had a profound impact on businesses and the population with stay-at-home orders, business closures, social distancing and work at home becoming the norm.
As electronic device design manufacturing slowly returns to normal, social distancing guidelines are likely to stay in effect to keep human-to-human impact minimal. While robots have already become a vital part of semiconductor manufacturing, continued concern over the coronavirus outbreak will likely expand the role of robotics in manufacturing substantially.
According to a survey from Precision Metalforming Association, demand for manufacturing services has dropped significantly in the past three months during the virus outbreak, with 51% reporting demand well below normal. Operationally, the survey found that only 26% of manufacturers are fully operational, 20% are at 90% of normal operation and the rest are far below.
With operations and demand lower than pre-COVID-19 conditions, a second wave of the virus could once again bring lockdowns and additional challenges to manufacturing. This means a reliance on robots may be necessary to stop any further supply chain issues from emerging.
"Social distancing will be a driver, as well as being unable to guarantee staff availability for the investments in robotics," said Michael Larner, principal analyst for industrial and manufacturing research at ABI Research. "This unpredictable operating environment will be a driver for both remote monitoring and robotics."
ABI Research forecasts that there will be more than 4 million commercial robots installed in more than 50,000 warehouses by 2025.
While many semiconductor manufacturers are already highly automated with numerous robots working alongside humans, if a second wave of the virus hits, robots may begin handling even more jobs such as boxing devices or maintenance. Companies are likely to examine the costs of adding more robots on the production line while others will consider introducing them, Larner said.
"I envisage that manufacturing plants will be no different to other public places whereby individuals will be screened for high temperatures before they enter the main facility," Larner said. "This will be part of worker safety protocols. However, this will drive investments in robotics and automated processes due to the uncertainty surrounding the availability of the labor force. Finally, we anticipate more investments in not only remote working but also technologies to support remote monitoring so that fewer people are required onsite."
Beyond automation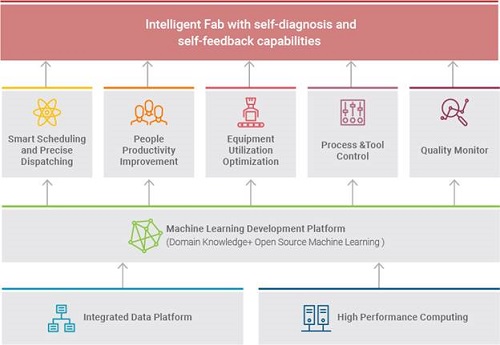 An example of TSMC's intelligent manufacturing system. Source: TSMCTaiwan Semiconductor Manufacturing Corp (TSMC), one of the largest semiconductor foundries in the world, has been moving beyond automation and into intelligent manufacturing well before the pandemic happened, a TSMC spokesperson said. Production in TSMC facilities is already fully automated for the most part and has integrated artificial intelligence (AI), machine learning and algorithms to build up an intelligent manufacturing environment.
TSMC uses these intelligent manufacturing technologies including robots for scheduling and dispatching, employee productivity, equipment productivity, process and equipment control and quality defense as well as robotic control for productivity, efficiency and accelerating innovation.
The company has also integrated new applications such as intelligent mobile devices, internet of things (IoT), mobile robots and combined with intelligent automated material handing systems (AMHS) to consolidate wafer manufacturing data collection and analysis.
Big robot business
As semiconductor manufacturing invests in robots further, it is becoming a larger business for those providing these robots in manufacturing.
Recently, Otto Motors, a division of Clearpath Robotics and a maker of autonomous material handling robots, secured $29 million in funding to expand its autonomous mobile robot (AMR) platform. Otto said it will use the funding to drum up a global network of delivery partners and accelerate its product roadmap for enterprise customers.
Otto said robots will not just help with automating factories, but will help to address the struggle to find workers for these warehouses as there is a projected skills gap of 2.4 million positions between 2018 and 2028. This has only increased because of the COVID-19 pandemic.
"Mobile robots are no longer a luxury in the workplace; they are a necessity," said Matthew Rendall, CEO and co-founder of Clearpath. "In a post-COVID world, AMRs enhance worker safety and bring resiliency to supply chains. As enterprises adapt, AMR demand will accelerate globally. This investment will enable us to grow to meet the evolving needs of the factories and warehouses of the future anywhere in the world."