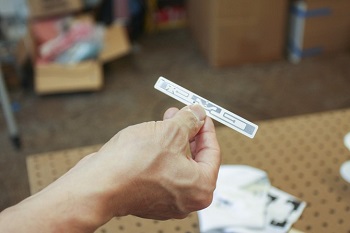 A radio frequency identification tag. Source: Daryl Lovell
A fast, contactless way to monitor blood pressure and heart rate could enable vital signs monitoring whether a patient is sitting in a waiting room or at home. The system devised by Cornell University engineers can even monitor 200 people simultaneously using just one central reader.
The new technology relies on an inexpensive system of radio-frequency signals and microchip "tags," similar to the anti-theft tags department stores place on clothing and electronics. The tags measure mechanical motion by emitting radio waves that bounce off the body and internal organs, and are then detected by an electronic reader that gathers data from a location elsewhere in the room.
Unlike most radar systems that rely solely on radio waves to measure movement, the Cornell system integrates near-field coherent sensing, which is better at directing electromagnetic signals into body tissue. This method allows the tags to measure internal body movement such as a heart as it beats or blood as it pulses under skin.
Electromagnetic energy supplied by a central reader powers the tags, each of which has a unique identification code it transmits with its signal. This capability enables tracking numerous people at one time. The researchers say the signal is as accurate as a blood pressure cuff or electrocardiogram.
A way to embroider the tags directly onto clothing using fibers coated with nanoparticles has been demonstrated, which may lead to clothing that monitors health in real time, with little or no effort required by the user.