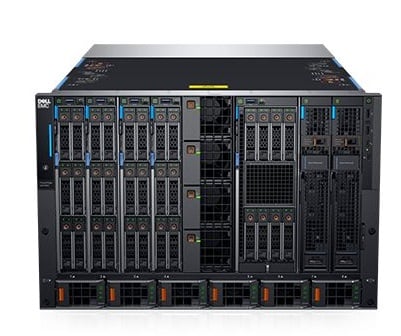 The Dell EMC PowerEdge MX. Source: Dell EMCMarvell has announced that its 10/25 GbE FastLinQ Ethernet and QLogic 16 G/32 G Fibre Channel technologies have been ported to the Dell EMC Power Edge MX.
The Dell EMC Power Edge MX continues both companies' long-standing relationship for robust and enterprise-class composable solution for data centers. The server is based on a modular, kinetic infrastructure architecture that is designed for performance and scale while delivering lower total cost of ownership, Marvell said. The Ethernet and Fibre Channel technologies will provide server connectivity solutions to support emerging and expanding data center workloads.
Marvell QLogic Fibre Channel host-bus adapters (HBAs), the Gen 6 32 GbFC QME-2742-DEL and Enhanced Gen 5 16 GFC QME-2692-DEL, are available for Fibre Channel storage, while Marvell FastLinQ Ethernet adapters, the 10/25 GbE FastLinQ 41000 Series, are the default Ethernet networking options for the servers.
The expanded suite of Fibre Channel and Ethernet-based adapters for PowerEdge MX are available for shipping today.