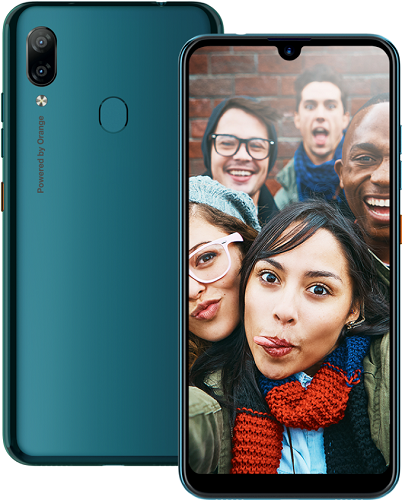 The Neva 5G smartphone coming in 2020. Source: OrangeEuropean telecom Orange has launched its own 4G and 5G smartphone for European markets.
Beginning this year, Orange's Neva line will be available initially in Poland and later in Romania with other European markets coming in 2020. Initially these smartphones will be used for existing 3G and 4G networks. Future phones will become available in 2020 — these will run on Orange's 5G network once commercial deployments are made.
The Neva 4G smartphones will be rolled out to France, Spain, Romania, Poland, Slovakia and Moldova, with four phones across different price points. 5G smartphones will be added to the Neva line in 2020.
Orange said the Neva 5G smartphones will be part of Poland's 5G trials and will be one of the first phones available for Romania's 5G network, which is set to be deployed by the end of 2019.
The Neva smartphone includes a 6.47 inch borderless screen with full HD, using artificial intelligence (AI) to manage files and photos as well as facial recognition, triple cameras and in-display fingerprint identification.
Orange 5G smartphones will join a growing list of 5G smartphones that have come on the market since 5G networks began deployment in the first half of 2019. Given that these initial smartphones are timed with first network deployments, it is likely a huge uptick in the number of phones that support 5G will be released in 2020 and beyond, including an Apple 5G iPhone.