A team of KAIST researchers created an image analysis method that can detect the degree of gender bias in a film.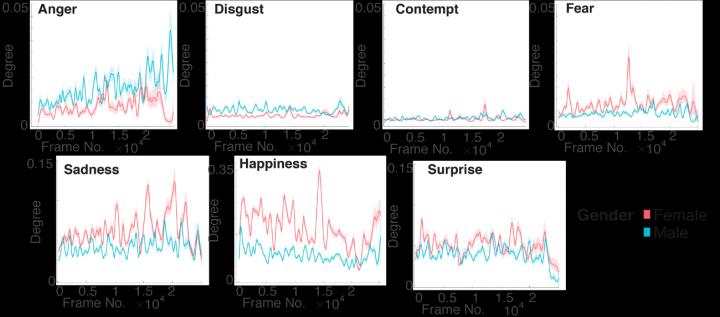 Difference in emotional diversity between male and female characters. Source: KAIST
Gender bias is a well-known problem in the film industry. For years, the Bechdel Test has been used as the most representative and general method to evaluate gender bias in a movie. The Bechdel Test measures gender bias by measuring how active a woman's presence is. A film will pass the test if it has:
1) At least two female characters
2) The female characters talk to each other
3) The conversation the female characters have is not related to one of the male characters
But the Bechdel Test has limitations. This test requires a human to analyze a film, and human data is subjective. This test only analyzes dialogue between characters, instead of looking at all the aspects of gender bias in a film. Gender bias doesn't just show up in dialogue. It also appears in age, setting, surrounding objects and more. Today's standards for gender bias are a lot more diverse and complicated than when the Bechdel Test was created in 1985.
Researchers wanted to create a system that could deeply analyze films and detect all aspects of gender bias. The new system uses computer vision technology to automatically analyze all visual information in every frame of a film. The goal behind the system is to accurately and practically evaluate every degree of discrimination being depicted for females and males.
To test the system, the team tasked it with analyzing 40 films from the United States and North Korea released between 2017 and 2018. The films were down-sampled from 24 frames per second to three. The team used Microsoft's Face API facial recognition technology and YOLO9000, Microsoft's object recognition technology to verify the details of the characters and surroundings.
The new system can compute eight quantitative indices for gender representation to test for gender bias. These indices are emotional diversity, spatial staticity, spatial occupancy, temporal occupancy, mean age, intellectual image emphasis on appearance and the type and frequency of the surrounding objects.
The results of the study found a lot more bias than a Bechdel Test would have. The team found that women in the films analyzed were more prone to expressing passive emotions, like sadness, fear or surprise. Male characters were more likely to express active emotions, like anger or hatred. Female characters and cars were tracked together 55.7% less than male characters. Women were more likely to appear in a household or with furniture than males, with a 123.9% probability. Female characters also appeared less frequently than male characters with a 56% appearance rate. Female characters were, on average, younger in 79.1% of the cases. The last two statistics were more obvious in Korean films than American films.
The researchers hope that the results will be used to promote public awareness of gender bias in the media.
A paper on the system was published in the Proceedings of the 22nd ACM Conference on Computer-Supportive Cooperative Work and Social Computing (CSCW).