Littelfuse Inc., a global manufacturer of circuit protection, power control and sensing technologies, announced a new series of higher surge transient-voltage-suppression (TVS) diode products in a DO-214AB package. The 8.0SMDJ series is optimized to protect sensitive electronic equipment from transient voltage induced by lightning and other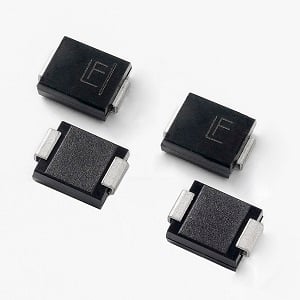 Source: Littelfuse Inc.voltage events. Because it combines up to 8000 W of peak pulse power dissipation in a compact DO-214AB SMC package, the 8.0SMDJ series offers circuit designers a high-surge, space-saving circuit protection solution that can simplify printed circuit board design and improve reliability significantly.
Typical markets and applications for the 8.0SMDJ series TVS diodes include:
Data centers
Industrial
Home appliances
Consumer electronics
AC and DC protection
Power over Ethernet (PoE) protection
Low-speed outdoor port protection
The 8.0SMDJ series TVS diodes offer these key benefits:
High power protection from voltage transients and surge lightning events as well as excellent clamping performance for increased reliability of sensitive electronics.
High power density in compact, low profile DO-214AB package allows for quick and easy printed circuit board (PCB) layout and PCB assembly while conserving valuable board space.
Replaces AC side and DC side metal-oxide varistors (MOVs) with a solution that provides better reliability, accurate clamping and fast response time when compared to MOVs.
Availability
The 8.0SMDJ series TVS diodes are available in tape and reel format in quantities of 3,000. Sample requests may be placed through authorized Littelfuse distributors worldwide. For a listing of Littelfuse distributors, please visit Littelfuse.com. Additional information is available on the 8.0SMDJ TVS diode product page.