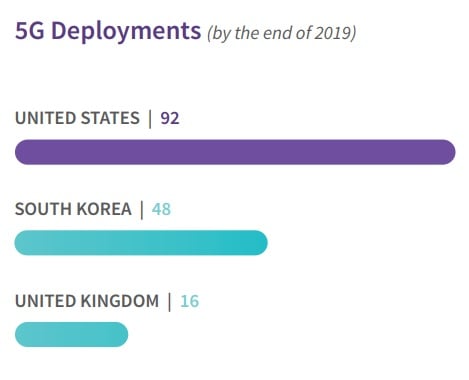 The U.S. will lead in planned commercial deployments in 2019. Source: CTIAIn August 2018, reports stated that Asia-Pacific countries, specifically China, South Korea and Japan, were leading the adoption of 5G deployment.
But the U.S. has caught up and is now tied with China in the global 5G race, according to a new report from the CTIA, a U.S. wireless communications consortium.
The CTIA research shows that the U.S. moved from third place in 2018 to a first-place tie with China for 5G readiness this year. South Korea, Japan and the U.K. follow in terms of 5G readiness, respectively.
The improvement in the 5G deployment rankings is due to significant investment by the American wireless industry in 5G networks, as well as government action to reform infrastructure policies and make more spectrum available to wireless operators, CTIA said.
The U.S. leads in the availability of high- and low-band spectrum for 5G but is behind in the availability of mid-band spectrum, which is seen as critical to 5G because it covers large geographic areas at a high capacity, the organization said. Other countries plan to make more than four times the licensed mid-band spectrum than the U.S. available by 2020.
Challenges remain
The improvement of America's 5G position is good news for the country. But China still has 14 wireless cell sites per 10,000 people, compared to 4.7 wireless cell sites in the U.S. China also boasts more than five sites per every 10 square miles compared to 0.4 sites in the U.S.
China not only holds advantages in mid-band 5G spectrum availability, but is also conducting hundreds of large-scale 5G trials across the country and have announced plans for pre-commercial 5G deployments within 2019. The U.S. will lead in planned commercial deployments in 2019, but in order to compete in the years following, the U.S. will need to foster greater investment and deployment such as freeing up the spectrum pipeline.
If a proper five-year schedule is implemented to free up auctions in the high-, mid- and low-band spectrums it will not only secure leadership in 5G, but it will also add $391 billion to the U.S. economy and create 1.8 million new jobs, CTIA said.
"The success of 5G in the United States requires the reallocation of low-, medium- and high-band spectrum to achieve both coverage and capacity," said David Sosa, principal analyst at CTIA. "We believe that the commercial release of spectrum to U.S. wireless providers will spur GDP and job growth across all communities and enable the innovations and industries of the future."