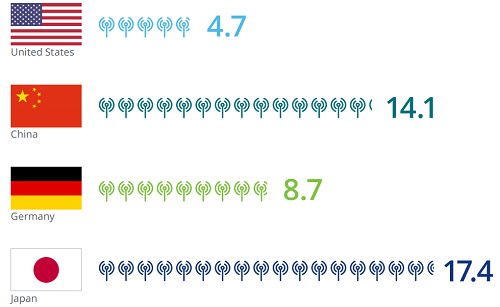 China has about three times the 5G tower density compared to the U.S. per 10,000 people. Source: DeloitteThe potential of 5G technology is that it will connect billions of devices of all kinds to high-speeds giving consumers new ways to interact and get information at a far more rapid pace than currently is available.
However, according to market research firm Deloitte, the U.S. is lagging behind other first adopter countries in 5G deployment and investment, allowing other countries to gain possibly a decade of competitive advantage.
In prior generations of wireless technology, countries that adopted first, such as the U.S. with 4G/LTE, gained broad macroeconomic benefits, Deloitte said. 5G offers an even larger potential advantage as devices connected to a 5G network will be able to exploit the data-network effect — using data to attract more users, who then generate more data, which helps improve services, which then attracts more users.
Deloitte said countries such as China, Japan and South Korea are setting the pace on 5G adoption through rapid building and aggressive investment, while the U.S. lags behind. China outspent the U.S. by $57 billion in wireless communications infrastructure and built 350,000 new sites, while the U.S. built fewer than 20,000. Deloitte said this gap is only going to grow as China's five-year economic plan includes a further $400 billion in 5G investment.
Even worse, China and other countries might be creating a 5G tsunami that might make it impossible for other countries to catch up. Deloitte said 5G deployment requires about 10 years of sustained investment cycles and those countries late to the party will still need this investment time in order to use the new products and services that it enables effectively.
Neglecting 5G deployment, not surprisingly, might take decades to overcome as other countries are already making their moves. Deloitte recommends the U.S. promote 5G through policymakers, carriers and industries in order to create efficient solutions to investment barriers and speed up technology deployment and adoption. The company said given how many jobs were created when the U.S. led the world in 4G deployment, the country cannot afford to the lose the race to 5G.
To learn more about the Deloitte report, click here.