San Diego-based Silanna Semiconductor, a developer of disruptive power electronics technologies, recently unveiled an integrated active clamp flyback (ACF) controller for AC/DC power adapters. The device, which according to the company is a world's first, was demonstrated at APEC 2019.
The SZ1101 Flyback PWM Controller reportedly delivers over 93% efficiency with an all-silicon design and 15 W/in3 power density at 30 W, enabling efficient, high-power-density AC/DC power adapter design with low bill-of-material cost.
The device combines an advanced ACF controller with three ultra-high voltage (UHV) components: an active clamp driver, an active clamp FET and a startup low-dropout (LDO) voltage regulator. The result is a "best of both worlds" for designers: the simplicity of a traditional flyback controller with the power density enabled by ACFs. The integrated circuit is designed to overcome the traditional complexities of ACF controller design, including tight tolerance for the clamp capacitor and leakage inductance. The critical on/off timing of the active clamp FET is also controlled by Silanna's proprietary OptiMode technology, which is responsive to system operating conditions. Additional proprietary technologies ensure optimal valley mode switching, tight switching frequency control and intelligent switching frequency handling.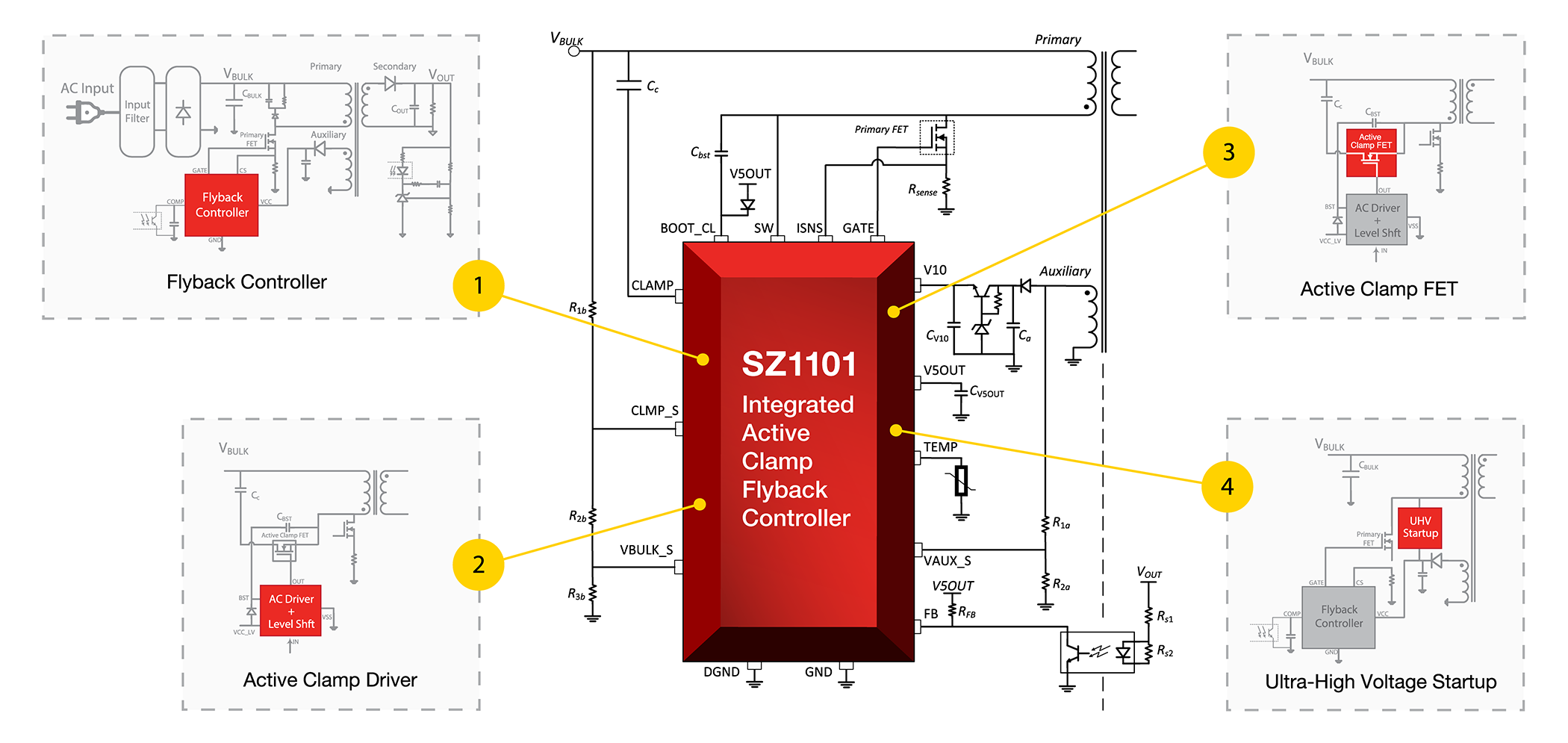 Silanna's new integrated device incorporates four key ACF components. Source: Silanna Semiconductor
Applications for the new device include mobile phones, tablets, notebooks and video game consoles. In a press release, Silanna noted that high-power-density strategies are the key to solving the challenge faced by today's designers: delivering increasing amounts of power in travel adapters while also keeping them cool to the touch and maintaining the small size consumers have come to expect.
Key specs include:
Input: 90 to 265 V AC
Output: 3.3 V, 5 V, 9 V, 11 V, 12 V, 15 V, 20 V
Output current: 3 A max
Output power: 30 W max
Output Port: USB-PD 3.0 or PPS
Efficiency: Greater than 93% full power efficiency with an all silicon design
Meets DoE and CoC efficiency and no-load standby power requirements
An industry standard 16-pin SOIC package and a latched version (SZ1101-01) are currently available for sampling; a hiccup mode version will be available in Q2. Also available is the SZ1105-01, which doubles the maximum output to 60 W.
For more on the Applied Power Electronics Conference, visit our dedicated section Electronics360 covers APEC 2019.