When selecting a pressure transducer, design engineers must consider the environment these devices will be used in, as well as the specifications and features. A media-isolated piezoresistive silicon pressure sensor from Honeywell offers multiple output options (0 V to 5 V, 0 V to 10 V or 4 mA to 20 mA) for reading pressure over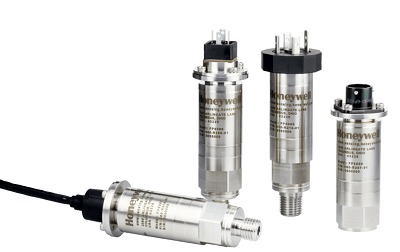 Source: Honeywellthe specified full-scale pressure span and temperature range in a variety of harsh environments.
The Honeywell Model FP5000 is compensated for sensor offset, sensitivity, temperature effects and non-linearity to offer improved thermal stability and accuracy. Hastelloy C276 and 316L stainless steel wetted parts provide durability with abrasive or corrosive media. The fully analog reduced-noise signal path of the transducer provides continuous output resolution in order to measure finite pressure changes or resolve a signal to infinite parts — which all translates into greater accuracy.
The FP5000 series is engineered with true zero output capability for its voltage output sensors. Most three-wire voltage output sensors cannot reduce to 0 V (zero volts) due to output saturation, which may leave tens of millivolts of output voltage error when the output tries to swing to 0 V (zero volts). An output signal that saturates at 50 mV corresponds to +1% FS error on a 0 V to 5 V output sensor. The FP5000 transducer has onboard circuitry on its voltage output versions that allows the output signal to swing all the way to ground (true zero) and even a little below it (~-0.2 V). This allows the sensor to be more accurate, by having the ability to detect slight changes in pressure as well.
The stainless steel, all-welded pressure sensors are pre-configured with the most commonly requested options and help keep equipment functioning properly and minimize maintenance through increased reliability in measurement of media (gas, fluid) under extreme environmental conditions.
Potential applications include use in test stands for the automotive, aerospace and medical sectors, R&D test labs, hydraulic and pneumatic system monitoring, leak detection, manufacturing mold pressure control, pump and compressor control and liquid level measurement.