Texas Instruments (TI) made a strong showing at APEC 2019, the Applied Power Electronics Conference held March 17-21 in Anaheim, California. A summary of all the company's product demos and sessions can be found here. A couple new products that caught Electronics360's eye appear below.
Synchronous buck converter: Among TI's device demonstrations was a new wide-input-voltage (VIN) synchronous DC/DC buck converter built for light load efficiency and reduced overall power solution cost. According to the company, the 100 V, 1 A LM5164 step-down voltage converter allows designers to shrink board space in rugged battery-powered industrial and automotive power supplies; used in conjunction with TI's WEBENCH Power Designer, the device can enable simpler, faster power conversion design.
[Learn more about DC-DC converters on Engineering360.]
Other features of the LM5164 include ultra-low quiescent current (IQ), constant on-time (COT) control architecture with no external compensation required, and integration of high- and low-side power metal-oxide semiconductor field-effect transistors (MOSFETs). An internal voltage at the common collector (VCC) bias supply and bootstrap diode eliminates an additional capacitor. The device operates from a wide input voltage of 6 V to 100 V, delivering up to a 1 A DC load current.
An automotive-grade LM5164-Q1 is also available. TI has created a video to show how it can be used to power a motor-drive inverter in a 48 V/12 V mild hybrid electric vehicle.
[Learn more about TI's DC/DC switching regulators.]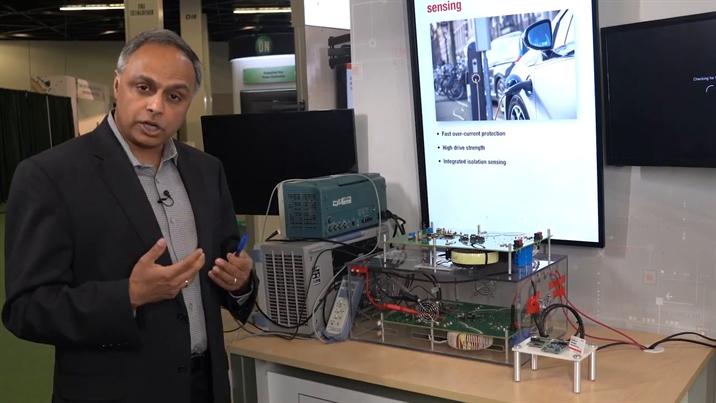 [Click for video] Nagarajan Sridhar of Texas Instruments leads a live switching demo of an IGBT power module driven by one of TI's new isolated gate drivers. Source: Texas Instruments
Isolated gate drivers: Three new lines of isolated gate drivers designed for monitoring and protecting high-voltage systems also were introduced. TI said the UCC21710-Q1, UCC21732-Q1 and UCC21750 product families are the industry's first to offer integrated sensing features for insulated-gate bipolar transistors (IGBTs) and silicon carbide (SiC) MOSFETs. These features enable simplified designs and greater system reliability in applications operating up to 1.5 kilovolts root mean square (kVRMS). With integrated components, the devices also provide fast detection time to protect against overcurrent events while ensuring safe system shutdown.
[Learn more about gate drivers on Engineering360.]
Applications include traction inverters, onboard chargers, solar inverters and motor drives. By utilizing capacitive isolation technology, each of the new lines maximize insulation barrier lifetimes while providing high reinforced isolation ratings, fast data speeds and high-density packaging. The video above is a live switching demo of an 800 V/200 A IGBT power module driven by the UCC21750.
Designers needing increased noise immunity and wider operating temperatures can look to the UCC23513, an opto-compatible gate driver with 3 A drive strength and 5 kVRMS reinforced safety isolation. The gate driver offers a wide junction temperature range from -40° C to + 150° C and high common-mode transient immunity (CMTI) greater than 100 V/ns — enabling designers to achieve levels of performance not available with traditional optocouplers.
[Read TI's whitepapers "Impact of an isolated gate driver" and "Silicon carbide gate drivers — a disruptive technology in power electronics."]