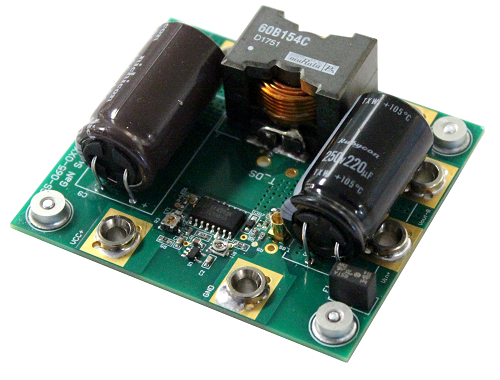 The evaluation kit with EZDrive circuit. Source: GaN SystemsGaN Systems is demonstrating a number of its gallium nitride (GaN) power semiconductors at 2019 Applied Power Electronics Conference & Exposition (APEC) taking place March 19-21 in Anaheim, California.
The discrete semiconductor vendor will be showing its GS-065 low-current 3.5 A, 8 A and 11 A evaluation kit with EZDrive circuit, which eliminates the need for a discrete driver, reducing the number of components.
The company is also showcasing its half-bridge and bridgeless totem pole power factor correction (PFC) reference designs using UPI Semiconductor drivers and GaN Systems' 100 V GaN high-electron-mobility transistors (HEMTs). GaN will also showcase its advanced half-bridge design evaluation board that reduces existing PCB footprints and bill of materials (BOM).
Other devices include an insulated metal substrate (IMS) half-bridge thermal mounting solution and a 1.5 kW bridgeless totem pole PFC reference design featuring an EMI filter and surge protection to reduce system size and BOM cost.
GaN is also offering a preview of a new driver technology in a half bridge daughter card offering safety and protection features, fast loop response and integrated chip functionality designed for use in industrial and automotive markets.
Finally, GaN is demonstrating a 50 W wireless power amplifier targeted for lower power applications in industrial and consumer markets.