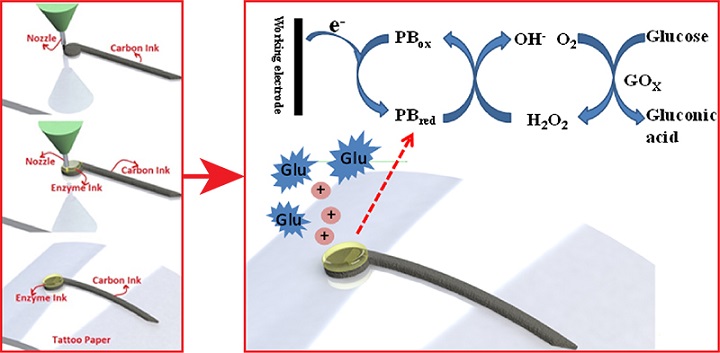 Graphic shows the 3D-printed biosensor for glucose sensing, and illustrates the direct-ink-writing of electrode and enzyme ink. Source: Washington State University
A needle-free alternative to the finger-prick test would be welcomed by diabetics, who may be cheered by new technologies that range from infrared spectroscopy devices to patches designed to monitor sugar levels through the skin or in sweat. However, the conventional routes used to manufacture these devices are cost- and chemical-intensive and unable to tailor patient-specific monitoring products.
A 3D-production technique based on direct-ink-writing was demonstrated by Washington State University scientists to manufacture a wearable glucose sensor that can be customized for users while incurring reduced material waste. The process dispenses polymer nanocomposite inks through nozzles with improved spatial control.
The electrically conductive biosensor is printed to create flexible electrodes by precise application of the material. Sensor sensitivity is enhanced by the resulting uniform surface and reduction in defects, which increases the sensor's sensitivity, estimated to be 17.5 nA μM−1.
The same 3D printer nozzles can be used to print electronics and other components of a wearable medical device. The next step will be to integrate the device into a packaged system for long‑term glucose monitoring.