There are several challenges posed by the transition to 5G, the next generation of wireless technologies that promises high speeds, massive bandwidth and ultra-low latency — the type of connectivity needed by next-generation technologies such as connected cars, virtual reality and the IoT.
Gerhard Wolf, vice president and general manager of RF semiconductor power company Wolfspeed, delivered an industrial keynote on meeting those challenges to attendees at the most recent edition of European Microwave Week (EuMW 2018), in Madrid. Electronics360 got the chance to speak with Wolf, along with senior director of Wolfspeed's foundry aerospace and defense business unit Jim Milligan.
Meeting the Challenges of 5G
Wolf told Electronics360 that he sees three key challenges for the RF power industry in relation to 5G implementation:
Wider bandwidth. Wolf pointed to the immense explosion of mobile data that has already started to take place, noting that Cisco has forecast a demand of 49 exabytes of data per month by the year 2021. He put this into context by characterizing a single exabyte as a download of 200 million HD movies. "Gallium nitride is supporting that better than any other technology, like LDMOS," he added, noting its ability to handle tenfold increases in download speed.
New frequencies. To handle the data explosion, there will be an opening of frequencies at ranges of 3.5 and 4.8 GHz. "With those higher-frequency bands, LDMOS conventional silicon technologies don't work well enough," Wolf said. "The higher the frequency goes, the faster the roll-off of efficiency." This is another win for gallium nitride (GaN), which according to Wolf boasts frequencies of 10% to 15% higher efficiency in the 3.5 GHz range.
Base station real estate. Most of the data demand is in urban areas, where the opportunity to build base stations is limited by the available space. Deploying smaller amplifiers is a cost-effective solution — but only if they can be designed to achieve greater efficiency.
Asked to predict what the near future of 5G will be, Wolf noted that, at present, China appears to be at the forefront of implementation, with the likelihood that the state-owned telecom network China Mobile will bring 5G online by late 2019. This contrasts significantly to the rollout of 4G, which saw China lagging while the U.S., Japan and Korea took the lead.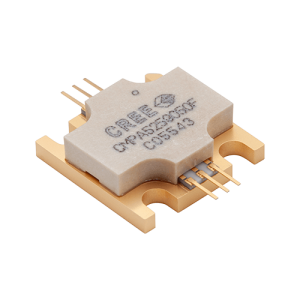 Cree's 50 W GaN MMIC for radar power amplifiers. Souce: WolfspeedSuccess at European Microwave Week
In addition to presenting the 5G keynote, Wolfspeed released two new Monolithic Microwave Integrated Circuit (MMIC) power amplifiers at the show; both are made for phased array radar designers looking to maximize power per element for C-band radar systems. Milligan characterized the devices as state-of-the-art on the market, in terms of not only performance but also package size: The half-inch-square package style with integrated leads, he said, is designed to provide "as close to a plug-and-play solution for customers as is possible."
Milligan also noted the new devices' utility to applications such as emerging radar systems, an area for which he pointed out a couple of key trends: replacing tube-based centralized transmitters with high-power solid-state transmitters; and the emergence of C-band active phased array radars, which typically require RF output powers in the range of 25 W to 50 W. The two new devices span that range; one has a 25 W configuration, the other a 50 W configuration. "So, (it's) very convenient to use these amplifiers that we just released in phased-array applications," Milligan said.
Moreover, according to Milligan, the company's presence this year at EuMW was a particularly successful one. He noted "a lot of interest in the fact that, as a combined company, we are now offering silicon LDMOS as well as gallium nitride-based devices. As a result," he said, "we are able to offer optical solutions to customers based on their specific requirements."
One and One Equals Three
The "combined company" Milligan noted is a reference to the March 2018 acquisition of the Infineon RF Power Business by lighting product and LED maker Cree, the parent company of Wolfspeed. Wolf, whose background includes time spent as the vice president and general manager of Infineon's RF power product line, noted that "acquisition" typically is a word used in negative terms, as it produces redundancy in sales, operations or product development. "This was exactly the contrary," he said. "In our case, it was so complementary, it was basically one and one equals three."
Indeed, the move allowed Cree to add Infineon's LDMOS silicon-based wireless communication infrastructure capabilities to the gallium nitride and silicon carbide foundry capabilities of Wolfspeed — and present two key aspects of the $1.5 billion RF power market as a single product line. The restructuring also proved to be an answer to an earlier attempt, blocked by the U.S. government due to national security concerns, for Infineon to acquire Wolfspeed, a company with a primary focus on aerospace and defense.
Wolf said that Infineon's LDMOS silicon focus limited its ability to follow the trend toward wireless base stations that are smaller, have higher efficiency and allow higher frequencies for power amplifiers. By shifting gears into GaN and SiC, he explained, Cree is poised for staying competitive in a highly volatile market — one characterized by six- to 12-month rollout timeframes that demand strong performance-to-cost ratio.
"I'm super-excited being part of the Cree Wolfspeed team now, having been in the infrastructure business and the RF power business for so long," Wolf said. "There is no other company in the industry right now that is so vertically integrated in offering GaN as well as LDMOS," he added. "The acquisition offers a very cost-optimized solution from that perspective."