Wolfspeed, a power semiconductor company that offers a wide range of RF transistor and power amplifier products, will be at the International Microwave Symposium (IMS) 2019 in Boston from June 4-6.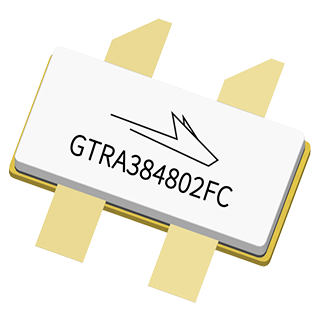 Wolfspeed's GTRA384802FC high-efficiency GaN Doherty transistor with 63 W average power output and 3.6 to 3.8 GHz frequency bandwidth for communications infrastructure. Source: Wolfspeed
The vertically integrated manufacturer will be showing a broad assortment of gallium nitride (GaN) on silicon carbide (SiC) and laterally diffused metal oxide semiconductor (LDMOS) parts, as well as introducing new products for aerospace/defense and communications infrastructure applications.
Wolfspeed will also be presenting live demonstrations each day including:
Broadband GaN monolithic microwave integrated circuit (MMIC) power amplifier (PA) for 32 V counter improvised explosive device (C-IED) applications
Mid Ku-Band GaN MMIC PA for satellite communications (SatCom) applications
63 W average, 3.6 to 3.8 GHz high-efficiency Doherty GaN transistor for cellular base station transmitter amplifiers
Broadband GaN MMIC power amplifier for 28 V X-band radar applications including military, marine and weather radars
120 W multi-stage application fixture for S-band radar
Troposcatter tactical radio reference design for SatCom and radio links
Wolfspeed will be located at booth 842 at IMS with parts on display and technical experts available to talk about system design challenges. A full schedule of the company's activities is available on Wolfspeed's website.
The company's components will also be on display in other demos throughout IMS, including Mouser Electronics at booth 374, Keysight Technologies at booth 606, Maury Microwave at booth 618, National Instruments at booth 930, Richardson RFPD at booth 1150 and AMCAD Engineering at booth 1231.
[Discover gallium nitride power amplifiers from a wide range of suppliers and search RF transistors by specification on Engineering360.]