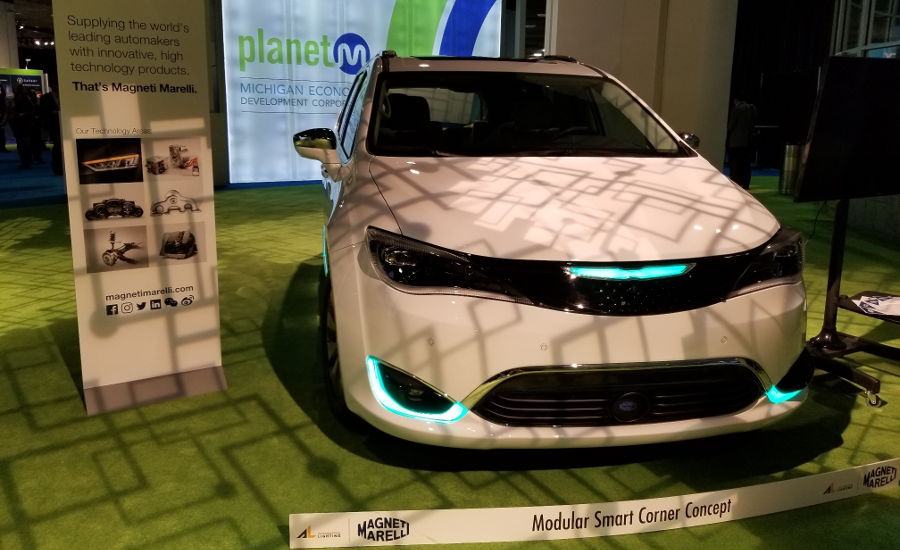 Source: Magneti Marelli
Magneti Marelli has been named a CES 2019 Innovation Awards Honoree for its Smart Corner. The Smart Corner integrates sensors for autonomous driving within vehicle headlamps and tail lamps.
Smart Corner provides a platform to incorporate sensing technology required by the OEM, and is designed to meet all sensor functions to enable Level 1 to Level 5 autonomous driving.
At CES 2019, Magneti Marelli will highlight its smart lighting and electronics solutions focused on autonomous driving and connectivity. The technology improves communication between the vehicle, its occupants and the surrounding environment.
In addition to its third-generation Smart Corner, Magneti Marelli will display the following innovations at CES 2019:
Digital light processing (DLP) technology — using light as a perception and communication tool through a live demonstration.
Adaptive driving beam (ADB) solutions that increase visibility for a safer, more comfortable drive.
Seamless integration of displays (e.g., cluster, heads-up display (HUD), center stack and passenger) and surfaces with varying characteristics (e.g., curved, active-matrix organic light-emitting diode (AMOLED) and touch/non-touch).
New human-machine interface (HMI) technology including gesture recognition, driver monitoring and voice interaction.
Connected technologies including integrated digital displays in the front grille and rear applique of a test vehicle, autonomous signaling, light fidelity (Li-Fi), an interactive virtual assistant, audible external alerts and positional advertising leveraging V2X.
CES 2019 will be held in Las Vegas starting January 8, 2019.