MIT's Computer Science and Artificial Intelligence Laboratory (CSAIL) has created a new method that can authentically recreate paintings regardless of different lighting conditions or placement.
Called RePaint, the system uses a combination of 3D printing and deep learning in order to make replicas of famous artwork for use in postcards or authentic copies that could be sold at museums.
"One of the primary cases we see is being able to supply low cost fine art reproductions that many could afford," Mike Foshey, a mechanical engineer at MIT CSAIL and one of the leads on the project told Electronics360. "However, this framework could be adapted to other type of fine art such as sculptures. The framework could also be used in other applications such as medical devices or creating anti-counterfeiting features."
MIT CSAIL reproduced a number of oil paintings in order to test the system and found that RePaint was more than four times more accurate than physical models at creating the exact color shades for different artworks. While these reproductions were the size of a business card, the team said more advanced, commercial 3D printers could help make larger paintings more efficient as it is currently costly and time consuming.
How They Did It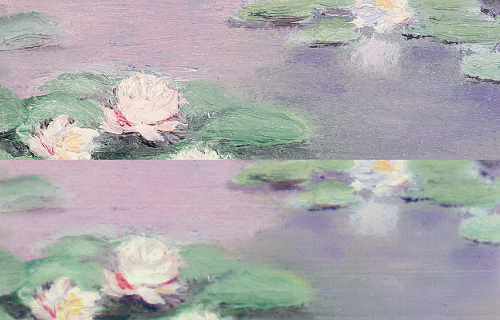 A comparison of the original art (above), and the 3D printed recreation. Source: MIT CSAILCurrently, 2D printers are commonly used for reproducing paintings but they lack the ability to match the colors because they have a fixed set of four inks (cyan, magenta, yellow and black). So MIT developed a technique called color-contoning that involves using a 3D printer and 10 different transparent inks stacked in very thin layers. The team combined this with an older technique known as "halftoning" where an image is created using lots of little ink dots, rather than continuous tones.
Foshey said MIT created the inks in-house using commercially available components. "They are special formulations for this application but can be easily scaled up for commercial use," Foshey said.
While MIT foresees this being used by companies that frequently recreate artwork such as postcard companies or museums, Foshey said it could be used by consumers to create original artwork.
"Artists could use this as a new media to create new and novel art pieces, not just reproduce current work," he said.
The system is just in its beginning phase and MIT CSAIL wants to make a few improvements to the system before it can be used by art museums and postcard companies. The team wants to improve better detail to account for aspects such as surface texture and reflection and expand the library of inks to account for more colors such as cobalt blue that the system couldn't completely reproduce.
The full research can be found in MIT CSAIL's new paper.