A new inductively coupled plasma mass spectrometry (ICP-MS) technique simultaneously measures 71 inorganic elements in liquids. While conventional ICP-MS tools measure elements sequentially or singly, the new approach profiles the complete range of inorganic elements all at once, in a less time and cost-intensive manner than previous techniques.
The system, devised by an international team of researchers, has implications for nutrition, ecology and climate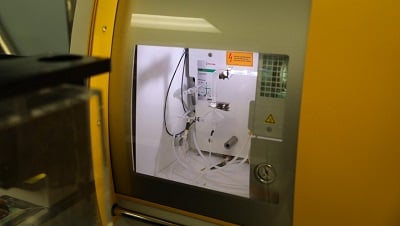 The simultaneous inductively coupled mass spectrometer. Source: Sapna Parikh / New York Universityscience and environmental health. The method detects elements rapidly, in seconds to several minutes, in samples as small as 1 to 4 milliliters and has been applied to tap and lake waters, beverages and biological samples.
The most elements of any water sample – 50 – were detected in snow collected in Italy, and 42 were identified in a sample from Croatia. Such data may offer a comprehensive means of surveying atmospheric concentrations of elements and for monitoring atmospheric element patterns.
Analysis of New York City tap water revealed 37 elements when the tap was initially turned on. The number fell to 34 after allowing the water to run for five minutes, indicating that iron, zinc and other elements may be leaching from household pipes into the water.
Bottled water, beer, wine and milk, as well as samples of saliva, urine and blood were also evaluated. A distinct fingerprint or elemental pattern was observed for each sample, indicating that samples can be recognized and differentiated by these patterns. Bottled water was marked by variations that can likely be traced to one being bottled at the source and one being chlorinated for transportation from the source to the bottling plant.
Researchers from New York University, Senckenberg Biodiversity and Climate Research Center (Germany) and Senckenberg Research Institute (Germany) contributed to this development, which is published in RSC Advances.