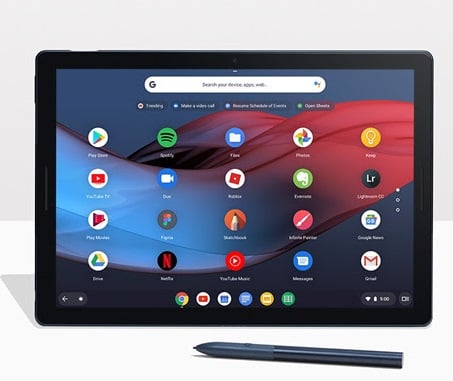 The Google Pixel Slate. Source: GoogleGoogle has introduced its latest tablet device called the Pixel Slate, taking aim at Microsoft's Surface device with the ability to add an optional keyboard as well as a pen to convert to an adjustable laptop or entertainment device.
The Pixel Slate is 7 mm thick and weighs 1.6 pounds with a display that covers nearly the entire front of the device. The tablet features a molecular display that includes 293 pixels per inch for a sharp picture and dual front-firing speakers for clear audio.
The tablet is powered by Intel's 8th Gen Intel Core m3, i5 or i7 processor or Intel Celeron processors and will last about 12 hours of typical use with the lithium-ion battery.
Google said it has re-designed the Chrome OS for navigation on a touchscreen and Linux can be run on the tablet for developers. And because it is a Google device, all the apps from the Google Play store can be ported to the tablet for gaming, entertainment, fitness, music and more.
Google Pixel Slate is scheduled to be available later this year starting at a price of $599.