SoundBender technology, a new ultrasound levitation system developed at the University of Sussex, produces dynamic self-bending beams that enable both levitation of small objects and tactile feedback around an obstacle.
Previous attempts to devise such capability failed to create sound fields of similar complexity and could not bypass obstacles that lay between the transducers and the levitating object. The new hybrid system combines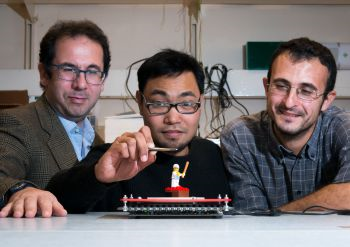 The researchers with SoundBender. Source: University of Sussex the versatility of phased arrays of transducers (PATs) with the precision of acoustic metamaterials. The arrangement eliminates the restrictions on sound field resolution and variability applied in previous approaches, as the metamaterial provides a low modulator pitch to help create sound fields with high spatial resolution while the PAT adds dynamic amplitude and phase control of the field.
Unlike other levitation techniques, ultrasound levitation requires no specific magnetic, electric or other physical properties in the object to be levitated and is applicable to a wider range of materials including liquids and food. The technology allows users to experience haptic feedback beyond an obstacle, to levitate around an obstacle and to manipulate non-solid objects such as changing the direction of a candle's flame.
Applications could include educational experiences with museum displays and enhanced board games with new levels of interactivity.