The use of light to manipulate microscopic objects as small as a single atom is a discovery deemed worthy of the 2018 Nobel Physics Prize. This optical tweezer technology has been of value in studying a variety of biological systems, and advances in acoustic levitation offer scope for manipulating small particles inside the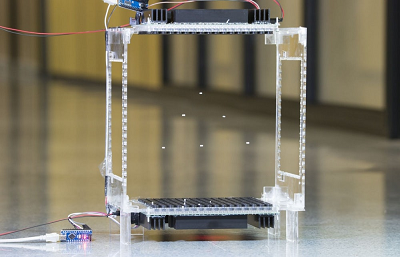 Top and bottom speaker arrays generate the acoustic fields needed to manipulate multiple objects suspended in a 3D space. Source: Iñaki Zaldúa, Asier Marzo and Bruce Drinkwater/Public University of Navarrehuman body without any type of incision and in other medical applications.
(Read about optical tweezers.)
Researchers from Public University of Navarre, Spain, and University of Bristol, U.K., have developed acoustic tweezers with capabilities similar to those of the optical variety and with numerous advantages. The lasers used in optical systems cannot penetrate opaque media, making it difficult to apply to biological tissue, while acoustic systems based on ultrasound can penetrate tissue safely and non-invasively. Acoustic devices are inherently more efficient than optical systems, as the former generate forces with the same magnitude as the latter but with much less energy, making the technology useful for cell manipulation.
The 40-kHz airborne holographic acoustic tweezer system implemented using two 256-emitter phased arrays was demonstrated to manipulate individually up to 25 small objects sized 2.5 cm (1 in) in diameter in a 3D space. Next, two mm-sized spheres attached to the ends of a thread were manipulated by the acoustic tweezers to sew the thread into a piece of fabric.
(Read about acoustic tractor beams that can trap larger particles.)
Larger systems could enable the trapping of more particles for the creation of displays made of levitated physical voxels or find use in non-invasive surgical applications.
The research is published in Proceedings of the National Academy of Science.