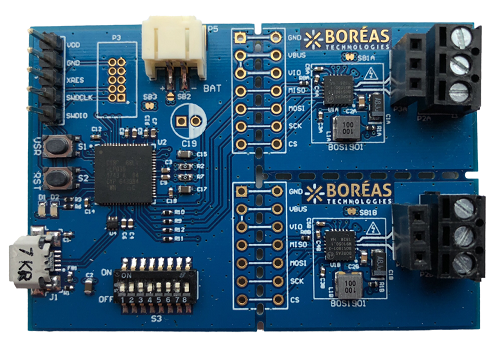 The BOS1901 on a board for wearables. Source: Boreas TechnologiesBoréas Technologies has introduced a new piezoelectric driver integrated circuit for high-definition haptic feedback in wearables and other battery-powered consumer devices.
Haptic feedback gives a sense of touch to digital devices, creating texture and conveying detailed information to users.
The BOS1901 delivers 10 times the power savings over competitors as well as four to 20 times the power savings of incumbent technologies, Boréas said. The power savings result in smaller devices with smaller batteries.
The chip is based on Boréas' scalable piezoelectric driver architecture called CapDrive, which provides greater energy efficiency, low heat dissipation and rapid response times to wearables.
BCC research forecasts the haptic IC market to reach $13.7 billion by 2022, with piezoelectric haptic components on track to outpace legacy architectures like eccentric rotating mass (ERM) motors and linear resonant actuators (LRAs). Boréas said the piezoelectric haptic components can be used for both output and input in a system, reducing complexity, size and cost in handheld devices.
The BOS1901 supports a range of piezoelectric haptic actuators and supports third-party haptic-effect libraries for greater customization.