Diagnostic sensors for disease detection such as watches need to be recharged, or require periodic battery replacement in the case of implanted devices. A medical sensor developed at Washington State University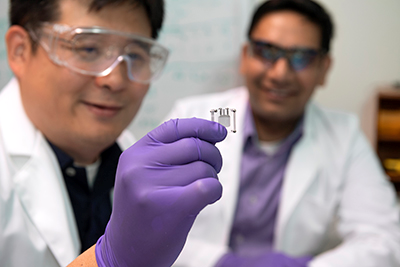 The biofuel is powered by glucose harvested from body fluids. Source: Washington State Universityeliminates these power source requirements by using the body's own glucose to fuel up.
A tiny fuel cell harvests glucose and turns it into enough electric power to energize the attached biosensor. The embedded electronics consume only a few microwatts of power, enabling biofuel cell operation for more than 30 min on active power without replenishment. Coupling these electronics with the biofuel cell makes it more efficient than traditional battery-powered devices, and since it relies on body glucose, the device's electronics can be powered indefinitely.
Unlike lithium-ion batteries, the biofuel cell is also completely non-toxic, making it more suitable and stable as an implant. Following laboratory testing, the researchers plan to test and demonstrate the sensor in blood capillaries and to increase the power output of the biofuel cell.
The research is published in IEEE Transactions on Circuits and Systems.