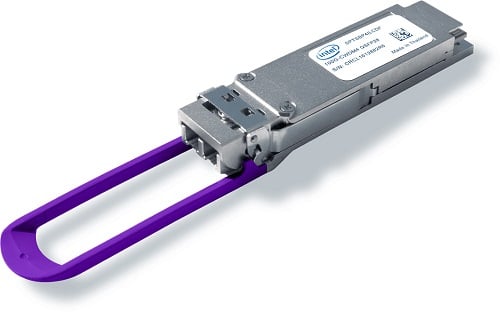 The 100 G silicon photonic transceiver. Source: Intel
Intel Corp. has revealed details about its 100 G silicon photonics transceivers aimed at accelerating the movement of massive amounts of data being generated by 5G use cases and the internet of things applications.
Intel unveiled the details at this week's European Conference on Optical Communication (ECOC) in Rome. The transceivers are optimized to meet bandwidth requirements of next-generation communications infrastructure while withstanding harsh environmental conditions, Intel said.
The integrated laser into silicon approach makes these 100 G transceivers suitable for mass production and deployment as 5G infrastructure ramps up, Intel said. Samples are available now with volume production expected to start in the first quarter of 2019.
Intel forecasts the total market opportunity for connectivity, including silicon photonics, to grow to about $11 billion by 2022, up from $4 billion this year. These transceivers are an expansion of the series of devices Intel has already announced. Earlier this year, Intel demonstrated 400 G silicon photonics capabilities with samples expected to be available next quarter with volume shipment slated to begin in the second half of 2019.
"Our hyperscale cloud customers are currently using Intel's 100G silicon photonics transceivers to deliver high-performance data center infrastructure at scale," said Hong Hou, vice president and general manager of Intel's Silicon Photonics Product Division. "By extending this technology outside the data center and into 5G infrastructure at the edge of the network, we can provide the same benefits to communications service providers while supporting 5G fronthaul bandwidth needs."