Discrete and Process Automation
Motor Controller LRUs for Evolving Electromechanical Actuation Demands
20 August 2018
Sponsored content
The design and development of electromechanical actuation (EMA) equipment requires OEMs to continuously tweak their designs to comply with evolving system requirements and growing demands for increased torque, speed and number of actuation cycles. Often, even a small increase in electromechanical actuator drive capability requires an increase in the size of the brushless DC motors, along with various modifications to the motor controller techniques utilized. Mechanical and electrical parameters can be fine-tuned to ensure optimal system performance. For instance, a small change in an aircraft's wing design may cause drastic changes in its actuation power requirements, which may cascade into significant changes throughout the EMA system design.
A recent trend among OEMs is to use line replaceable units (LRUs) for many EMA system components. An LRU is a modular sub-system component of an airplane, ground vehicle, ship or spacecraft (or any other manufactured device) that is designed to be replaced quickly in the field. LRUs can be bolted on with minimum changes to the overall system, avoiding costly re-certifications, while reducing time-to-market. The modularity of LRUs can contribute to reducing system costs and increasing quality by standardizing development and maintenance across different systems. LRUs also simplify the maintenance and repair logistics chain, and improve mission readiness. LRUs can be stocked in nearby inventories and replacement LRUs can be made quickly available in the event of failure. The failed LRU can then be transported back to a remote factory or depot for repair.
LRU motor controllers are used in numerous systems, such as the landing gear on an unmanned aerial vehicle (UAV), flight control surfaces on an aircraft or hoist and winch control systems for rescue and loading and unloading operations. LRU motor controllers integrate multiple functions necessary for operating an electro mechanical actuator, such as motor feedback and control functions, along with communications between adjacent systems, including flight and mission computers, crew and other systems. LRU motor controllers accept external power and perform power conditioning (e.g., DC/DC, AC/DC conversion, filtering, harmonics rejection, EMI/EMC mitigation, power quality assurance), allow for the controlled motion of the EMA system by using commutation algorithms tailored to the system's function and communicate with the rest of the system (e.g., aircraft, ground vehicle, UAV, UUV) for seamless network control.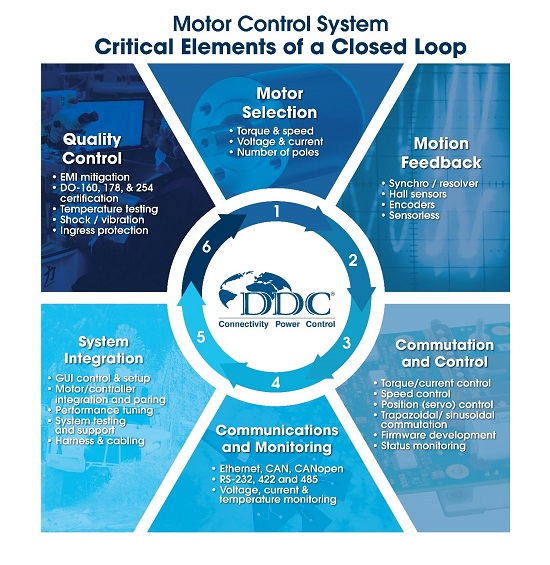 Figure 1. Critical elements of a closed-loop motor control system. Source: Data Device CorporationThe development of an LRU motor controller involves several design phases, each requiring different technical skillsets necessary to accomplish all the performance, efficiency and certification objectives, as shown in Figure 1. Traditionally, OEMs maintained multidisciplinary teams of mechanical, electrical, software, process, quality and project management resources who worked together to deliver integrated EMA solutions. In recent years, however, the rapid advancement of motor controller techniques and the widespread adoption of LRU hardware, coupled with evolving electrical and software certification requirements, have required that OEMs take a different approach to the development of their EMA systems. On one hand, as EMA systems become more complex, development costs and risks tend to increase. This may place increased pressure on companies to reduce head count and outsource non-value-added operations. This practice, however, can have a deleterious effect on program costs and risks. Properly trained resources must be available as required to address critical program or technical needs as situations arise. Lack of these resources may lead to false starts, delays and increased development costs and risks.
For example, customers often need custom application-specific motors that fit within a pre-defined footprint. Such a custom motor will have specific resistance, inductance, current and torque parameters. These parameters need to be ideally matched with the motor controller to ensure that the motor and controller pair operates at its most optimal performance points (e.g., speed/torque, lower heat dissipation, extended temperature range, longer mean time between failures). A multi-disciplinary team of mechanical, electrical, software, process and quality engineers would be needed throughout the development cycle to properly design, develop and certify the operation of the EMA system. OEM customers increasingly rely on dedicated teams of suppliers who specialize in the design and manufacture of certified motor controller LRUs.
Data Device Corporation (DDC), a certified developer and manufacturer of motor controller LRUs, can effectively help OEMs reduce program costs and risks by providing them with skilled resources, capabilities and experience throughout the LRU development cycle. DDC maintains a well-trained and dedicated multidisciplinary staff to augment and support OEM customers, and can assume potentially significant design, schedule, performance, integration, manufacturing, certification and qualification risks, as well as obsolescence and inventory management. This allows the companies they serve to focus on their core competencies and value, and satisfy evolving EMA system demands in a low-risk and cost-effective manner.
For more information about DDC's motor controller LRU capabilities, visit their motor controller LRU webpage.
Find Free Electronics Datasheets