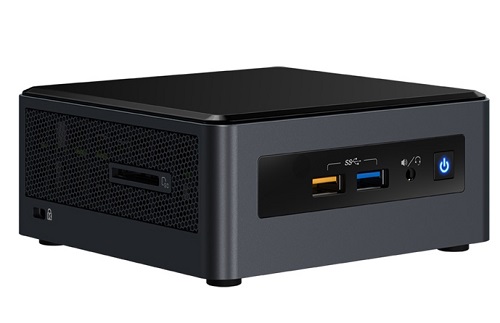 The NUC mini PC with 8th generation Core technology. Source: IntelIntel Corp. has introduced new NUC kits and NUC mini PCs based on the 8th generation Intel Core processors.
The NUCs bring desktop performance in a small form factor to be used at all levels of consumers including integrators and DIYers that want to customize their choice of storage, memory and operating system.
The NUC kits feature Intel Iris graphics with eDRAM that can power home theater systems, drive content creator boxes and serve as personal voice assistants. The mini PCs can play games at 1080 p and are the first mainstream NUCs to include discrete graphics. The devices come with 1 TB of storage, either 8 GB or 4 GB of memory and Windows 10. The PCs also includes wireless and Bluetooth options, two HDMI outputs and four USB 3.0 ports.
Intel said where space is a concern, the NUCs offer a good option for space-saving design and suited for home office, home theater, entry-level gaming or replacement for desktops.
Intel said the NUC kits and NUC mini PCs will be available through Intel distributors and online retailers beginning in September.