Police light detection and ranging (LIDAR) guns are being deployed for routine traffic enforcement replacing RADAR in certain fields. In contrast to RADAR, LIDAR outputs a coherent beam that offers improved accuracy and object detection capabilities, and while LIDAR technology is similar to RADAR the subtle differences affect their capabilities, giving each technology type its own share of benefits and limitations.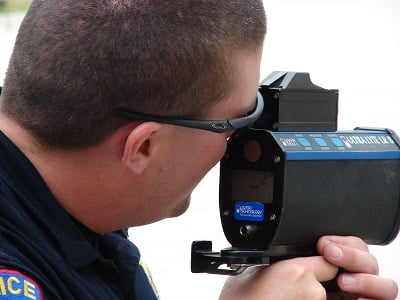 Source: David R. Tribble; CC BY SA 3.0
RADAR
RADAR guns emit a fixed-frequency electromagnetic signal. The signal disperses in a cone-shaped pattern, reflecting off objects in its field of view. Speed detection operates on the basis of two different principles depending on whether the measurement is taken from a stationary point or whether it is operating in moving mode, a feature exclusive to RADAR.
Stationary measurements are made by observing the Doppler Effect, the frequency change in the return signal. There is a net change in frequency that is directly proportional to the net velocity of the detected object in reference to the RADAR gun. Objects approaching the sensor would return a higher frequency than emitted while an object moving away from the sensor would return a lower frequency.
In motion, the Doppler Effect is in reference to the speed differential between the target vehicle and patrol car. To compensate for the patrol car's speed, a second antenna emits and captures a return signal from stationary objects. The device is then able to calculate the actual speed of the target vehicle using the patrol car's speed as a reference point.
In either case, accuracy is dependent on object orientation producing reliable results only when measurements are taken parallel to the direction of motion.
Modern RADAR guns transmit microwaves in the K-Band with a frequency range of 18 to 27 gigahertz and a wavelength range of 1.11 to 1.67 centimeters. Some guns may use either shorter or longer wavelengths in the K-alpha or K-beta bands, but in all cases, modern guns emit a higher frequency signal and are less susceptible to interference or detection.
The strength of the return signal is in proportion to the size of the object, and where older system were incapable of targeting smaller objects, such as a motorcycle passing a tractor trailer, improvements to the signal-to-noise ratio, signal processing and filtering capabilities allow the devices to achieve better results and identify fastest moving targets.
LIDAR
LIDAR guns operate on the basis of time-of-flight. It's not a change in signal frequency, but rather a distance measurement that gets averaged with high temporal resolution. Traveling at the speed of light distance measurements are taken on the order of a hundredth of a second and speed acquisition is captured in less than a second with a resolution greater than 1 mile per hour.
They emit and receive a low-power, eye-safe pulsing invisible infrared laser. The emitted signal is far more coherent in comparison, and at a distance of 500 feet, the field of view is 18 inches wide, whereas a RADAR gun would have a field of view 150 feet wide. Due to the nature of the coherent beam, they also operate over a greater range, retrieving accurate readings from up to 4,000 feet away.
One drawback is that the device does require aiming. The sights of the LIDAR gun capture a target vehicle in the same way a firearm is directed at a target. For this reason, the device is considered delicate in comparison to a RADAR gun, and the accuracy of the sights should be checked by capturing distance measurements off of stationary object before use.
Conclusion
LIDAR guns offer a highly accurate method of capturing and documenting speed violations, but they do have their own set of drawbacks. They are a directional tool that requires careful aiming, and the need to remain motionless. Movement of the sensor can give rise to "sweep errors" that can have dramatic effects on the observed speed. To achieve the greatest accuracy, LIDAR guns need to remain stationary, requiring them to be mounted to a tripod or otherwise held in a fixed location.
Rain, sleet, or snow can also affect the accuracy of LIDAR measurements, and the object of interest must lie within direct sight of the sensor. LIDAR excels at targeting single vehicles, and its accuracy is far superior to RADAR, but user error and training still draw valid concerns regarding the functioning accuracy of the device.
The benefits of using RADAR are in its ability to operate in moving mode and to track the movement of several targets in front of or behind the operator. Its accuracy and object identification capabilities are also dependent on user training and calibration of the device, as the emitted frequency requires tuning. It is the preferred tool in State Highway Patrol applications, where a patrol officer may not have the time to visually identify and document a single offender. Instead, the officer can capture offenders with advanced RADAR guns by identifying fastest moving targets.
In many ways, LIDAR police have an improved tool set at their disposal. Target acquisition, imaging capabilities and improved accuracy outline the device benefits, while its inability to capture multiple targets or operate in motion, and its sensitivity to movement and environmental influences highlight its limitations. There is a clear market for LIDAR guns, while its counterpart will continue to excel in its own arena.
Resources
Frequency of a Police Radar Gun
LIDAR: The Speed Enforcement Weapon of Choice