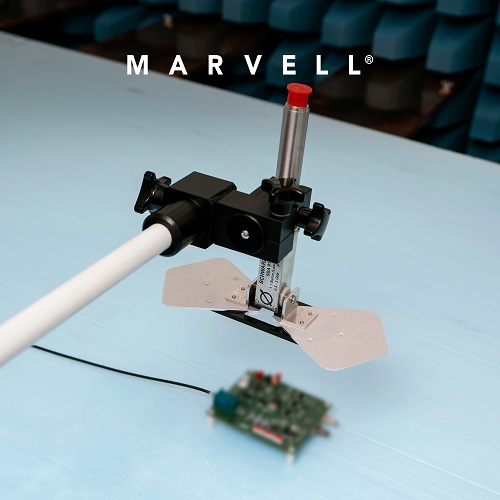 The EMC lab will help with development of next-generation automotive products. Source: Marvell
Marvell Technology Group Ltd. has opened its first automotive electromagnetic compatibility (EMC) lab in North America.
The facility is CISPR 25 qualified and provides the company with an in-house capability to perform emission, immunity and ESD testing. The automotive Ethernet products from Marvell can be designed into system solutions that meet EMC challenges faced by automotive manufacturers in order to shorten time-to-market.
The EMC lab will also help with the development of Marvell's next generation of automotive-qualified products.
With an increase in the number of electronic control units (ECUs) coming from automotive silicon vendors to meet stringent EMC and ESD requirements, the EMC lab provides the testing capability needed to ensure Marvell's products and solutions meet these requirements.
"The automotive megatrends of vehicle electrification, assisted and autonomous driving and the advanced connectivity solutions create an increasingly challenging EMC and ESD environment that have to be solved," said Ian Riches, director of global automotive practice at research firm Strategy Analytics. "Automotive silicon vendors are now being asked to develop capabilities and shoulder more of the responsibility in developing practical recommendations that overcome these challenges. The opening of the Marvell EMC lab is an important milestone for the automotive industry and will provide Marvell with an edge with this unique facility."
Meanwhile, Marvell has confirmed its 88Q2112 chip — an IEEE 802.3bp 1000BASE-T1 compliant automotive PHY — has completed and passed conformance tests outlined by Japan Automotive Software Platform and Architecture (JASPAR).
JASPAR was established in 2004 to accelerate the adoption of new automotive-related technologies in Japan and to help with the development efficiency and reliability through standards and the sharing of electronic automotive software and networks.
The tests conducted include electromagnetic compatibility (EMC), emissions and immunity tests, bulk current injection (BCI) testing for RF immunity and extreme temperature testing with gigabit compatible harnesses. Additional tests performed include electrostatic discharge (ESD), transient noise, ground differential stress, clock skew, signal line short-to-power and short-to-ground testing. Marvell said it passed all the tests by a considerable margin.