The International Manufacturing Technology Show (IMTS), which runs Sept. 10-15, 2018 in Chicago, will include exhibits highlighting cobots.
No, that's not a typo: "cobot" is a new term meaning "collaborative robot." The term refers to devices that allow people to work in closer collaboration with automation than previously possible. Advances in software, control and sensor technology have enabled robots to stop when they "feel" something out of the ordinary, leading to greater safety in functioning alongside human workers.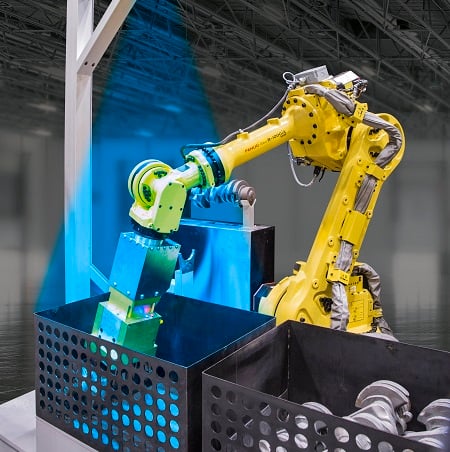 Articulated robots arms with 3D area sensors can enable setup of a bin-picking operation in minutes. Source: Association for Manufacturing Technology.According to Mike Cicco, president and CEO of FANUC America Corporation and a board member of the Association for Manufacturing Technology (AMT), which owns and produces IMTS, cobots are one of several emergent technologies that conference attendees should explore.
Cicco envisions a work cell where a robot could tend to computer numerical control (CNC), such as for loading and unloading on long part runs. The cobot could function without the need for additional guarding, while human operators could go about their routine without safety concerns. The cobot could be pushed to the side or moved to another cell for small batches or other instances where manually tending the CNC makes sense.
Mobility is also an important part of the emerging trends. "Equipment used to be bolted to the floor, but now there is a whole slew of what people are calling mobile robots, which pairs an automated guided vehicle with an articulated arm robot," said Cicco. Mobile robot platforms can also be used to deliver parts to robots and automated cells, allowing a single robot to tend multiple machines.
The new mobile robot generation eliminates the need for re-teaching movement points when a robot is relocated. A vision system that captures images of reference dots placed on the CNC can be used to quickly recalibrate a robot's "teach points" — potentially saving hours of programming time.
Before one draws the conclusion that such advances mean that robots will soon be taking over the world, it might be useful to consider what's actually happening in industry: robots are taking over dull, repetitive and dangerous tasks to free scarce human resources to focus on other, typically more fulfilling jobs.
Along those lines, however, Cicco notes that the industry is running into a shortage of robotic talent. Just as job shops and manufacturers cannot find people who want to become machinists, they are having a hard time finding people to program and maintain robots.
"We want to change the mindset so people view automation as a new career opportunity or see how it enhances their current job," Cicco said. "That's true whether someone is a high school student, assembly worker, technician, shop owner or a PhD candidate."