Saelig Co. Inc. has announced Tabor's Lucid LS RF Analog Signal Generators, offering advanced features and industry-leading performance in a compact form factor. The three models, LS3081M (3 GHz), LS6081M (6 GHz) and LS1291M (12 GHz), provide single-channel high-purity sine waves in a small footprint module.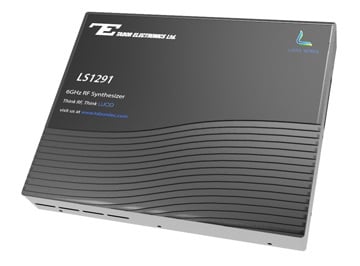 Source: Saelig Co. Inc.Featuring extremely fast switching speed, superior signal integrity and very low distortion, the Lucid range of RF generators also features all the necessary modulation signals required for testing modern analog communication systems. Built-in SPI and micro-USB interfaces allow for external control of the generators.
With a switching speed of less than 100 μs, the Lucid series can meet many advanced test and measurement applications with high signal quality and excellent phase noise specs (-145 dBc/Hz at 100 MHz, -132 dBc/Hz at 1 GHz, at 10 kHz carrier offset, typical). Since the ability to create signal bursts and chirps has become necessary for many aerospace and defense applications such as radar and wireless systems, the Lucid series is equipped with modulation modes such as AM, FM, PM, Phase Modulation and Sweep. Almost any pulse modulation is possible, whether for "narrow" or "standard" pulse needs. The series also offers multi-instrument synchronization capabilities.
Lucid generators come with dedicated software to control all of the instrument functions, modes and features via a graphical user interface (GUI). A complete set of drivers also allows users to write custom applications in various environments including LabVIEW, Python, CVI, C++, VB and MATLAB. Dlls are provided to allow linking with other Windows-based APIs. Additionally, low-level SCPI commands can be used to control the generators in Windows, Linux or Macintosh applications.
The Lucid range has been specifically designed in a compact form-factor to fit applications that demand outstanding dynamic range, fast switching, pure RF signals with easy remote programming for seamless system integration. Designed and made in Israel by Tabor Electronics, a world-leading provider of high-end signal sources, the Lucid series of RF signal generators will be available in 2018 Q4 from Saelig Company Inc. Fairport, New York. For detailed specifications, free technical assistance or additional information, please contact Saelig at 1-888-7SAELIG, via email: info@saelig.com or visit www.saelig.com.