RIGOL Technologies has unveiled the DSG3000B series radio frequency (RF) signal generator offering high purity signal generation and modulation. The DSG3000B is available in 6.5 GHz and 13.6 GHz models with optional built-in IQ baseband generator and OXO timebase with standard AM/FM/ØM analog modulation up to 3.6 GHz, and I/Q modulation and I/Q baseband output up to 6.5 GHz.
The DSG3000B RF signal generator delivers high signal purity with phase noise measuring less than -116 dBc/Hz at 20 kHz (typical) and a wide output amplitude range of -130 dBm to 25 dBm with an amplitude accuracy of less than 0.5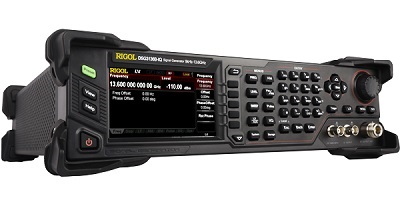 Source: RIGOL TechnologiesdB (typical). These generators feature a standard 1 ppm internal clock and an optional 5 ppb high stability clock, and optional pulse modulation and pulse train generator. DSG3000B series has a wear-free electronic attenuator design with USB/LAN/GPIB interfaces standard and supports LXI-C and SCPI command set. The unit has a standard 2U height to save rack space with an available rack mount kit.
"Our new DSG3000B series RF signal generators provide a clean carrier to 13.6 GHz and allows engineers to generate complex signals without any additional hardware using the built-in modulations," stated Chris Armstrong, director of product marketing for RIGOL USA. "With a starting price of only $9,999 this new microwave signal generator gives RF engineers a high performance yet affordable option for their design verification and testing applications."