Saelig Company, Inc has introduced the Siglent SSG3000X RF Signal Generators, which have a frequency range of 9 kHz to 2.1 GHz or 3.2 GHz. They provide all of the common signal generation needs such as sweep control and analog modulations (AM, FM, PM) as well as pulse modulation and pulse train generation (option).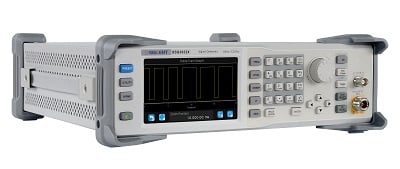 Source: Saelig Company, Inc Additionally, the IQE models can be used with a baseband generator such as the Siglent SDG6000X to generate IQ modulated signals. With a 0.01 Hz frequency setting resolution, the signal output can be adjusted from -110 dBm to 13 dBm with phase noise as low as -110 dBc/Hz @ 1 GHz.
The SSG3000X generators support input control from a 5 inch TFT capacitive touch screen, or mouse and keyboard. External control may be from USB or LAN (VXI-11, Socket, Telnet) connection or optional GPIB. Web browser remote control on a PC or mobile terminal is also supported.
With high accuracy and pure output signals, the SSG3000X series is an excellent choice for R&D, education and manufacturing needs.
SSG3000X RF Signal Generators are made by Siglent Technologies, since 2002 one of the leading high quality test equipment manufacturers, with a growing worldwide reputation. For detailed specifications, free technical assistance or additional information, please contact Saelig at 1-888-7SAELIG, via email: info@saelig.com, or visit Saelig.