When robots make mistakes, human workers must either correct the mistake themselves or develop explicit programs to understand what went wrong.
But MIT's Computer Science and Artificial Intelligence Laboratory (CSAIL) has developed a method where correcting robotic mistakes may be as simple as using a thought and a hand wave.
The method could open new possibilities on how human workers manage a team of robots doing different tasks. The system can detect in real time if a person notices an error as a robot does a task. An interface that measures muscle activity is used to make hand gestures to scroll through and select the correct option for the robot to execute.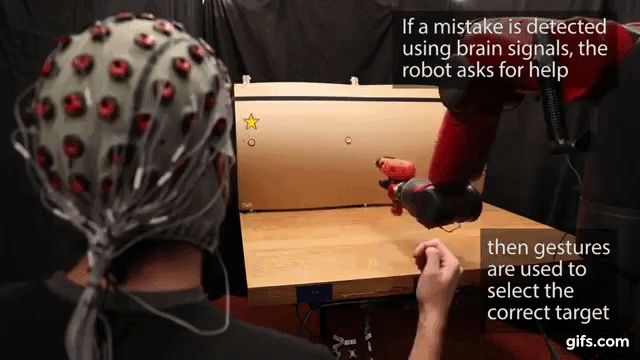 MIT CSAIL said the system works on people it's never seen before, making it applicable for organizations to deploy in real-world settings without the need to train users.
"This work combining EEG and EMG feedback enables natural human-robot interactions for a broader set of applications than we've been able to do before using only EEG feedback," said CSAIL director Daniela Rus. "By including muscle feedback, we can use gestures to command the robot spatially, with much more nuance and specificity."
In tests, the team used a robot named Baxter from Rethink Robotics. With human supervision the robot went from choosing the correct target 70 percent of the time to more than 97 percent of the time using the MIT CSAIL system.
The method uses the power of electroencephalography (EEG) for brain activity and electromyography (EMG) for muscle activity, putting a series of electrodes on the users' scalp and forearm.
While both of these metrics have shortcomings, MIT said, the EEG signals are not always reliably detectable, while EMG can sometimes be difficult to map to motions. However, merging the two allows for more robust biosensing and makes it possible for the system to work on new users without training. The system could one day be used by the elderly or workers with language disorders or those with limited mobility.
"We'd like to move away from a world where people have to adapt to the constraints of machines," Rus said. "Approaches like this show that it's very much possible to develop robotic systems that are a more natural and intuitive extension of us."
The full research can be found in the journal Robotics Proceedings.