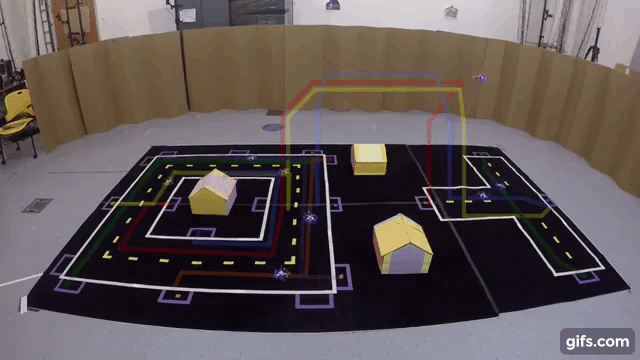 A simulation involving a mock city with swarm drones navigating on both land and air. Image credit: MIT CSAIL
Flying cars are a hot topic right now after it was revealed that numerous companies will have products on the market by 2035 and PAL-V is opening a production facility in the Netherlands.
Now, researchers at MIT's Computer Science and Artificial Intelligence Laboratory (CSAIL) are developing an alternative to flying cars in the form of robots that can both maneuver around on land and fly in the sky.
Researchers have developed a system using eight quadcopter drones that can fly and drive through a city-like setting with parking spots, no-fly zones and landing pads. The ability to both fly and drive is useful because you can fly over ground obstacles and drive under overhead obstacles. However, normal drones can't maneuver on the ground at all. But a drone with wheels is much more mobile while having only a slight reduction in flying time.
MIT's CSAIL project builds on previous work involving a flying monkey robot that could crawl, grasp and fly. While the robot could hop over obstacles, there was no way for it to travel autonomously. CSAIL worked around this by developing various path-planning algorithms to make sure the drones don't collide. They also put two small motors with wheels on the bottom of each drone for driving.
In a simulation, the robots were able to fly for 90 meters and drive for 252 meters before their battery ran out. While the added weight of the wheels impacted the battery life, it was offset by the driving aspect as driving is more efficient than flying.
MIT tested the robots navigating from a starting point to an ending point on a collision-free path involving fabric for roads and cardboard boxes for buildings. The tests were successful and show another approach to creating safe and effective flying cars that doesn't involve just putting wings on cars, researchers say.
"As we begin to develop planning and control algorithms for flying cars, we are encouraged by the possibility of creating robots with these capabilities at small scale," says Daniela Rus, director of MIT's CSAIL. "While there are obviously still big challenges to scaling up to vehicles that could actually transport humans, we are inspired by the potential of a future in which flying cars could offer us fast, traffic-free transportation."