Stanford University researchers are presenting a new eyesight improvement system called Autofocals at the Special Interest Group on Computer Graphics and Interactive Techniques Conference (SIGGRAPH) 2018. It mimics the natural way that human eyes automatically correct focus when looking at objects close up.
Autofocals attempts to remedy presbyopia, the inability for the eye to focus clearly on nearby objects. This ailment happens to most people as they age, but its severity varies.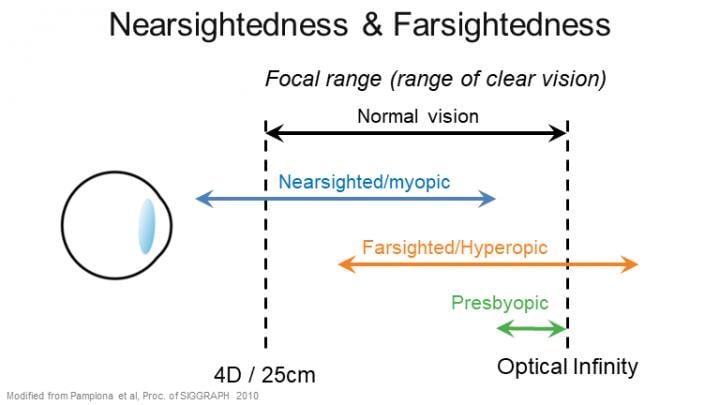 Range of focus for various eye refractive conditions. Myopia shifts the focal range closer, causing bad far sight. Source: Nitish Padmanaban/Stanford
Most existing remedies for presbyopia don't achieve the same natural, high-quality vision of younger people. One solution, monovision contact lenses, involves one contact lens that corrects distance vision in one eye, while a contact lens in the other eye corrects near vision. Another option, progressive lenses, provides the user with focus correction with glasses that have a varying difference in lens strength.
"A lot of presbyopes have had time to get used to their corrections, through progressive lenses, monovision, etc., but they still spent the majority of their lives being able to refocus their eyes," said Nitish Padmanaban, lead author of the study and electrical engineering Ph.D. candidate at Stanford. "We want to restore that experience."
The Autofocals system mimics the way that eyes naturally respond to changing distances and depths. It combs data from eye trackers and depth sensors and automatically drives the focus-tunable lenses to achieve near-perfect or perfect vision. Autofocals builds on past attempts to create an automated, in-vision correction system; for the first time, the system has both eye trackers and a depth camera in one unit.
To test Autofocals, the team gathered a group of 24 presbyopia patients ranging from age 51-81. The testers performed many tasks, including visual activities, contrast sensitivity and letter matching, first without Autofocals and then with the system. The volunteers reported that they experienced better close-distance visual activity with Autofocals than with monovision or progressive lenses. None of the volunteers experienced perfect 20/20 vision with Autofocals, but the research still shows great potential. The volunteers also said that there wasn't a significant difference in contrast sensitivity and letter matching when using Autofocals, but they still maintained that the Autofocals prototype worked better than their current method of sight correction.
The team's SIGGRAPH presentation will allow attendees to test out a prototype of Autofocals.