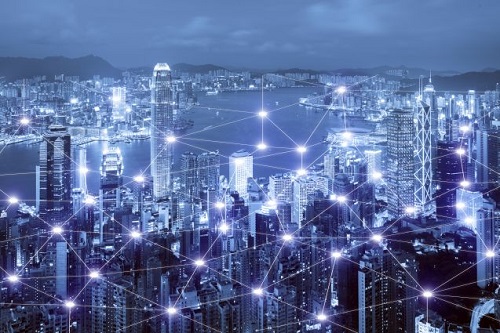 The algorithm has devices locate themselves without needing direct access to anchors or cell towers. Source: Tufts University The deployment of 5G networks may still be years away, but given the anticipated massive amount of data flowing to billions of devices, the strain put on these networks to keep track of every device and what is being downloaded and uploaded is a monumental task.
Market research firm Gartner forecasts that by 2020, 13.5 billion consumer devices will be connected to Wi-Fi — that's up from 6.4 billion devices using Wi-Fi today. This means in less than two years, there will be twice as many devices hooked up to Wi-Fi as there are now. And this is just Wi-Fi; it doesn't take into account cellular networks or other forms of internet usage.
In order to help sort out this information and the devices, researchers at Tufts University have come up with a new algorithm for localizing and tracking these devices that distributes the task among the devices themselves.
Current tracking of wireless devices is centralized, depending on "anchors" with known locations such as cell towers or GPS satellites to communicate directly with each device. As the number of devices increases, anchors may be installed at higher density but this can become unwieldy as the number of items to track grows significantly, Tufts said.
The Tufts method of distributed localization in a 5G network has the devices locate themselves without needing direct access to anchors. Because of this, there is no need for a central coordinator to collect and process the data.
"The need to provide location awareness of every device, sensor or vehicle, whether stationary or moving, is going to figure more prominently in the future," said Usman Khan, Ph.D., associate professor of electrical and computer engineering in the School of Engineering at Tufts University. "There will be applications for tracking assets and inventory, healthcare, security, agriculture, environmental science, military operations, emergency response, industrial automation, self-driving vehicles, robotics — the list is endless. The virtually limitless potential of the internet of things requires us to develop smart decentralized algorithms."
The self-localization algorithm makes use of device-to-device communication, so it can be used indoors, underground, underwater or under thick cloud cover.
Tufts does warn that the inherent nature of mobility of these devices makes self-localization challenging but the key is to obtain positions rapidly to track in real-time, meaning the calculations must be simplified without sacrificing accuracy. This method accomplishes this by substituting the non-linear position calculations for a linear model that quickly and reliably converges on the accurate position of the device, Tufts said.
Tufts said this method not just prepares for the future of the billions of devices that will come online in the future but also relieves pressure on current infrastructure by removing the need to install a lot of transmitters in buildings and neighborhoods.
The full research can be found in the journal Proceedings of the IEEE.