Researchers from Tufts University's School of Engineering created a biomaterial-based ink that responds and indicates chemicals released from the body or the surrounding environment through changing color. The inks detect and quantify a range of biological conditions, molecules and pathogens over the surface of the body when printed into conventional garments and uniforms. They can be screen printed onto textiles to create large, detailed maps of human response and exposure.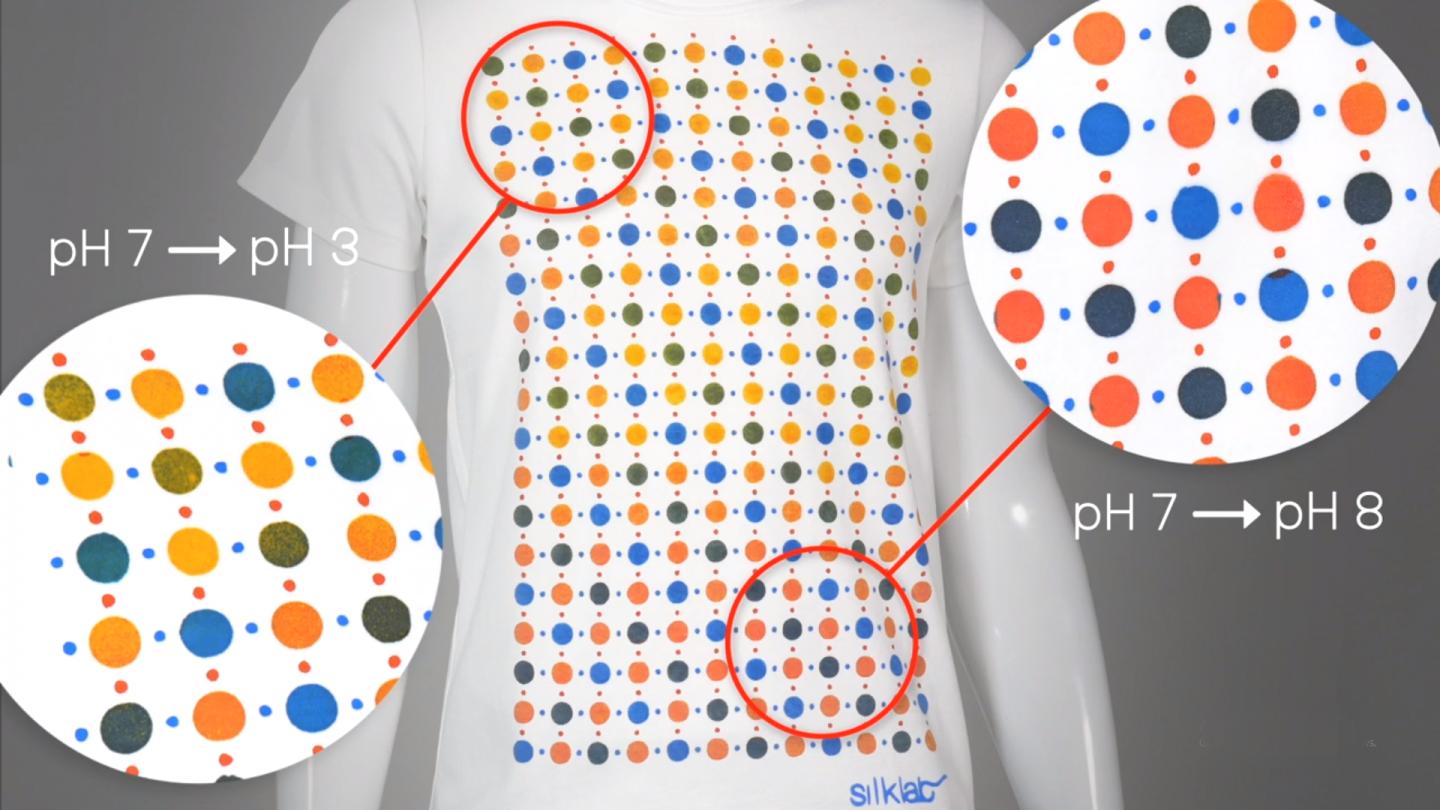 A T-shirt screen printed with pH sensitive bio-active inks can provide a map of pH response on the wearer. Variations of bio-active inks can detect other molecules released by the body, or in the surrounding environment. Source: Focus Vision Media and Tufts University
Screenprinted bioinks make it easy to mass-produce soft wearables. Wearable sensing devices have been used for monitoring human performance and health, but currently, they are limited. Today's wearables monitor localized or overall physiological information through wearable patches or wristbands. The new bioinks allow wearables to gather information from most of the body.
The bioinks enable non-electronic, colorimetric detection of a large number of analytes when embedded in sensing garments. The team developed sensing garments using biologically activated silk based inks. The soluble silk substrate can be modified by embedding reporter molecules into the material. Reporter molecules could be unstable on their own but they become stable when embedded within the silk fibroin in the ink formulation.
The new inks were formulated for silk printing by combining the bioink with a thickener and a plasticizer. This allows the ink to be used just like any other screen printing ink. The inks can be applied to clothing and other surfaces like wood, plastics and paper. Screen printing allowed for large, multiplexed arrangement of sensors that cover extensive areas.
The color-changing ability of the inks provides a visual cue to the presence or absences of an analyte. Camera imaging analysis scans the material and gathered precise information on the high-resolution submillimeter mapping.
This technology could be extended to support environmental monitoring through things like tracking air quality. The common printing technique opens new doors for creative applications of wearable sensors.
A paper on this technology was published in Advanced Materials.