The Fitbit Ionic is a smart watch designed to track fitness activities and provide coaching. It includes built-in GPS for displaying stats such as pace and distance, recording elevation climbed and mapping user route. The device also tracks heart rate and calorie burn and is swim-proof for use in the pool or rainy weather.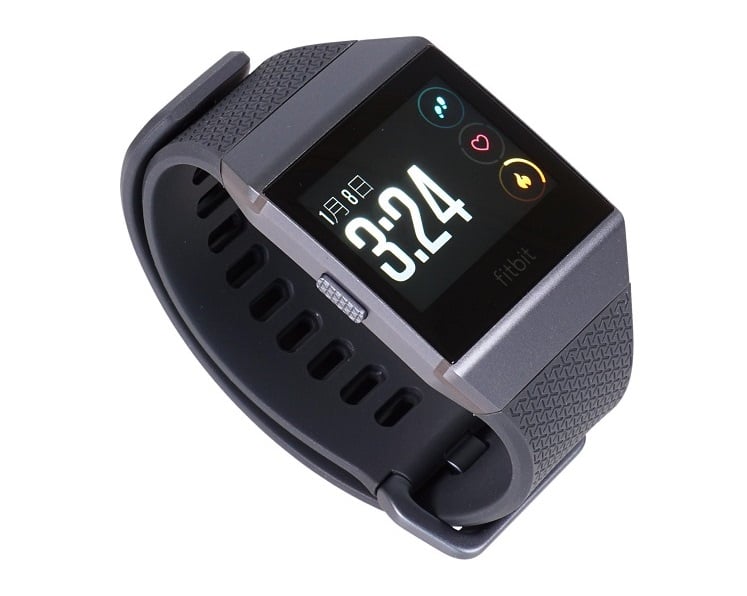 Fitbit - Ionic (FB503)
Summary points:
Smart watch - time, text, GPS, NFC (payment) and more
Toshiba apps processor, TZ1201XBG, 4 GB eMMC NAND
Heartrate monitoring, activity tracker, waterproof
1.42 in. TFT-LCD, 348 x 250 with GF1-type capacitive touchscreen
Target market: Mass market
Release date: Quarter 4, 2017
Total cost (direct materials and manufacturing): $45.49
Pricing and availability: $299.95 MSRP, available worldwide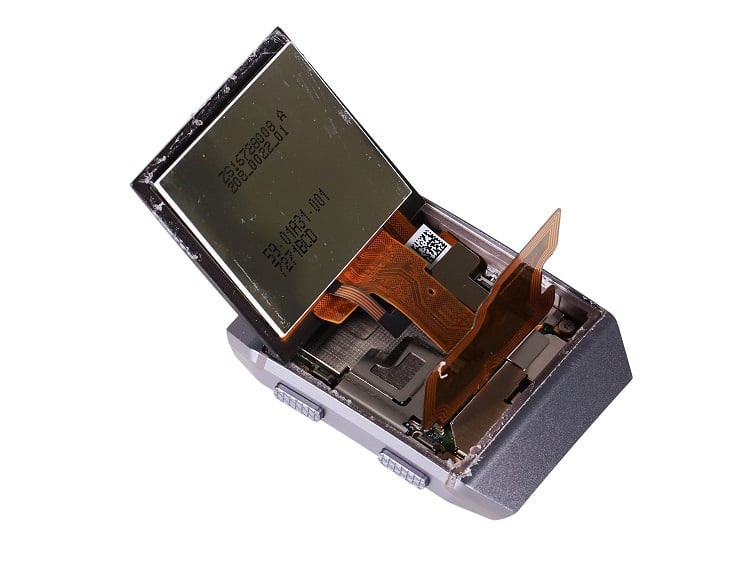 Fitbit - Ionic (FB503): Main Enclosure. Source: IHS Markit.
Major Components:
1.42 in. diagonal, GF1 type, direct bonding, with Corning Gorilla Glass 3 and OCA - (Qty: 1)
Applications processor, 32 Bit ARM Cortex-M4F Core, 120 MHz, 2240 KB SRAM, LCD controller and 2D graphics accelerator, one 12 Bit ADC and one 24 Bit Delta-Sigma ADC and 1 12-Bit DAC, with four LED current drivers. Manufacturer: Toshiba Semiconductor - MPN: TZ1201XBG - (Qty: 1)
Pressure sensor, 300-1200 hPa, 24 Bit digital output, I2C interface, with -20-85 degrees Celsius temperature sensor and stainless steel cap. Manufacturer: TE Connectivity Ltd. - MPN: MS5837-02BA06 - (Qty: 1)
Flash, eMMC NAND, 4 GB. Manufacturer: Toshiba Semiconductor - MPN: THGBMDG5D1L - (Qty: 1)
Enclosure, main, bottom, die-cast aluminum, machined, printed, with insert-molded plastic, with 15 metal tabs - (Qty: 1)
Ten layer, FR4/RCF HDI, any layer stacked via, lead-free - Manufacturer: Unimicron Technology Corp. - (Qty: 1)
1.42 in. diagonal, TFT LCD, LTPS, MVA, 348 x 250, N/T, 1.8 g, with integrated ambient light sensor - Manufacturer: AU Optronics Corp. - MPN: A014QAN02 - (Qty: 1)
WLAN, single chip, IEEE 802.11b/g/n, 2.4 GHz, with integrated ARM Cortex-M3 Processor, with integrated PA and PMU - Manufacturer: Cypress Semiconductor Corp. - MPN: CYW43364KUBG - (Qty: 1)
Accelerometer and gyroscope, six-axis, sensor hub, integrated 32 Bit MCU, I2C, Manufacturer: Bosch Sensortech GmbH - MPN: BHI160 - (Qty: 1)
NFC controller - Manufacturer: NXP Semiconductors - MPN: PN66T - (Qty: 1)