Conventional digital holographic microscopy is useful for studying cells without any labels or dyes but typically requires a complex optical setup and stable environment free of vibrations and temperature fluctuations that can introduce noise in the measurements. Such equipment, which includes a digital camera to record a hologram and a computer to generate a 3D image, is usually only found in laboratories. The recent development of a low-cost, portable system could bring this technology out of the lab and into the field or to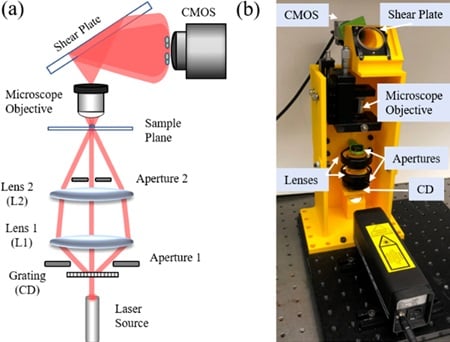 (a) Optical configuration and (b) 3D-printed experimental system. Source: University of Connecticut/OSAthe bedside.
Researchers from the University of Connecticut and the University of Memphis used 3D printing to design a small and robust high-resolution microscope that could increase access to low-cost medical diagnostic services. The high-resolution 3D images provided by the instrument could potentially be used to detect diabetes, sickle cell disease, malaria and other diseases.
The device delivers twice the resolution of traditional digital holographic microscopy by tapping structured illumination microscopy techniques and generating a structured light pattern using a clear compact disc. An assessment of system performance involved recording images of a resolution chart and using an algorithm to reconstruct high-resolution images. The new microscopy system was demonstrated to resolve features as small as 0.775 µm — double the resolution of conventional systems.
The system was also shown to be stable enough to analyze fluctuations in biological cells over time, which typically need to be measured on the scale of a few tens of nanometers. The researchers then demonstrated the applicability of the device for biological imaging by acquiring a high-resolution image of a green algae.
The microscopy system described in Optics Letters is ready for practical use.